Lincoln Project Georgia Runoff Ad Removed by Facebook Over Claims From Ex-Trump Lawyers
An ad released by the Lincoln Project focusing on the Georgia Senate runoffs was taken down by Facebook on Monday as the social media platform found the video violated its election policies.
The Lincoln Project, an anti–President Donald Trump super PAC, featured several rallies in Georgia which included former Trump lawyer, Lin Wood, discouraging voters from casting ballots in the state's Senate runoff.
In an email sent to Newsweek, a spokesperson for Facebook wrote, "We don't allow ads that delegitimize the outcome of the election so we're rejecting these ads for violating this policy."
According to Facebook's Ad Library, the ad was taken down because it violates the social media's advertising policy. Facebook's ad policies also states, "Ads that portray voting or census participation as useless/meaningless and/or advise users not to vote or participate in a census," as well as "ads that delegitimize any lawful method or process of voting or voting tabulation," are now allowed on the social media site.
The ad was posted on the Lincoln Project's Facebook page on January 2, and was taken down by Facebook on Monday, according to its ad library.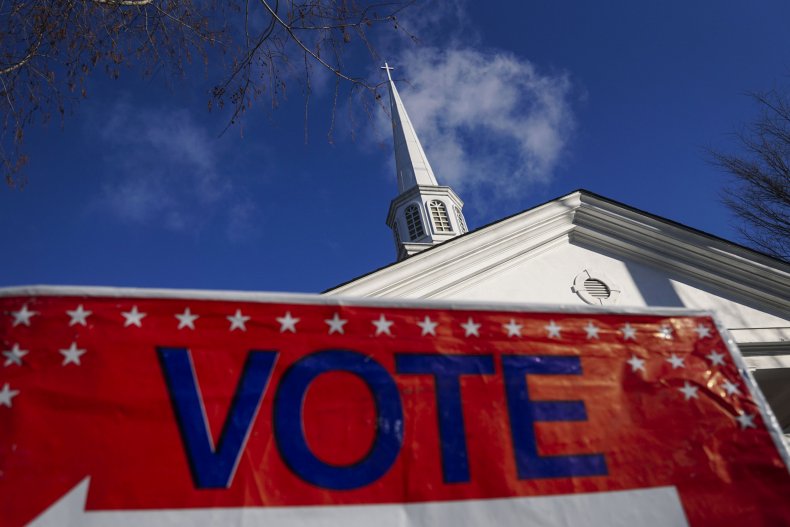 The ad, titled "Why would you go back and vote in another rigged election?" featured Wood at a rally in Georgia prior to the Senate runoffs, telling voters "we're not gonna vote on your damn machines made in China," alluding to the Dominion Voting Systems machines, which have become a focal point for claims of widespread voter fraud from Trump and his allies following the results of the 2020 presidential election.
Wood can also be heard calling for Republican incumbents Kelly Loeffler and David Perdue in the Senate runoffs to "earn" the votes from residents in Georgia.
"If Kelly Loeffler wants your vote, if David Perdue wants your vote, they've got to earn it," Wood can be heard saying in the video. "Where's Kelly Loeffler here? Where is David Perdue? He ought to be standing right here. They have not earned your vote. Don't you give it to them."
The ad also featured a short clip of far-right activist Nick Fuentes telling people at a rally in Washington, D.C., that they are "going to destroy the GOP."
"The GOP wants us to hold the line and vote for RINO's [Republican in name only] like David Perdue and Kelly Loeffler in the Georgia Senate," Fuentes can be heard in the video.
While the video was taken down from Facebook on Monday, the same ad has not been taken down by Twitter and currently has more than 466,000 views.
The removal of the ad comes just a day before the Georgia Senate runoffs, where voters in the state will cast their ballot in two elections, with one featuring Perdue against Jon Ossoff and the second including Loeffler vs. Raphael Warnock.
Newsweek reached out to the Lincoln Project for comment but did not receive a response in time for publication.
Updated January 5, 2021, 1:43 p.m. ET, to include a statement from a spokesperson for Facebook.