The Lincoln Project Not Expecting Jared Kushner and Ivanka Trump Lawsuit Over Billboards
The Lincoln Project has not heard back after its legal response to Jared Kushner and Ivanka Trump's threat to sue over billboards in New York's Times Square which targeted them both.
Ivanka, the president's eldest daughter and one of his senior advisers, is depicted smiling and gesturing with her hands next to numbers of the amount of people who have died after contracting COVID-19 in the United States.
While Jared Kushner, Ivanka's husband and also a senior adviser to the president, is seen smiling with his arms folded next to the quote "people are going to suffer and that's their problem," which was attributed, via an anonymous source, to Kushner in a Vanity Fair report last month. A row of body bags is pictured underneath the quote.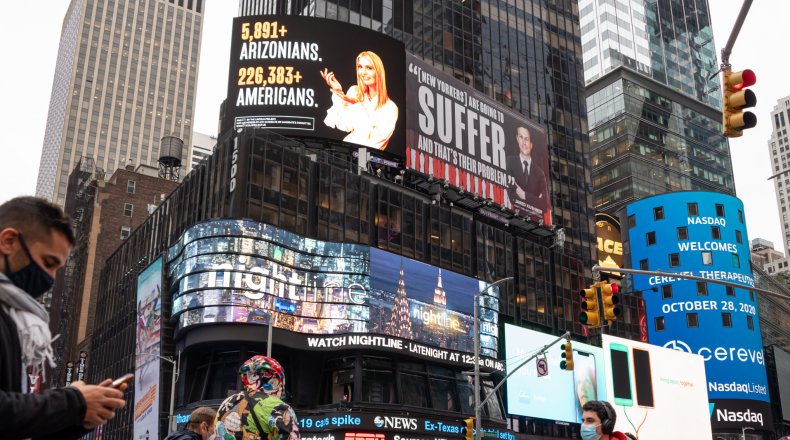 In response, Marc E. Kasowitz, representing the siblings, sent a letter to The Lincoln Project demanding the billboards be taken down while suggesting legal action would be taken should they not.
"I am writing concerning the false, malicious and defamatory ads that the Lincoln Project is displaying on billboards in Times Square," Kasowitz wrote.
"If these billboards are not immediately removed, we will sue you for what will doubtless be enormous compensatory and punitive damages."
In response, The Lincoln Project, which is a group made up largely of Republicans but who do not want to see a second Trump term, branded the pair "entitled, out-of-touch bullies."
In a letter, the Lincoln Project lawyers replied to Kasowitz: "Please peddle your scare tactics elsewhere. The Lincoln Project will not be intimidated by such empty bluster.
"Your clients are no longer mere Upper East Side socialites, able to sue at the slightest offence to their personal activities."
The message, from Matthew T. Sanderson of Caplin & Drysdale, defended the billboards and suggested "sue if you must," as the Lincoln Project would "welcome the opportunity to further establish the truthfulness of its Times Square billboards through litigation and discovery."
Reed Galen, a co-founder of the anti-Trump group, told Newsweek that there had been no response to this, nor did he expect their would be.
Galen, who was named in the letter from Kasowitz, said: "They have not replied, I don't expect they will. My guess is that Marc Kasowitz never wanted to send that letter."
He further defended the billboards, suggesting there was "no basis in law" for the pair to sue and that they "ceased being private citizens" upon accepting their White House roles.
Galen, a political strategist who previously worked with George W. Bush and John McCain, reiterated that he would "look forward" to Kushner and Ivanka discussing their roles in the handling of the coronavirus pandemic if legal proceedings did move forward.
Newsweek has contacted the couple's counsel, Kasowitz, and the White House for comment.
The Lincoln Project has persistently targeted the president and his allies in the run up to Election Day.
The group describes itself as being "dedicated to defeating President Trump and Trumpism at the ballot box."