Lincoln Project Meme Mocks Mike Pence VP Acceptance Speech
The Lincoln Project released a meme mocking Vice President Mike Pence on Wednesday night, again attempting to portray the Trump administration's second-in-command as dishonest.
The attack ad posted on social media cuts between footage of Pence praising President Donald Trump at the 2016 Republican National Convention, and clips critical of the commander-in-chief's behavior and record since taking office.
Posting their latest anti-Trump meme, the Lincoln Project said: "VP acceptance speeches are a good way of setting the tone for your presidency, right Mike?"
At the start of the 90-second meme, Pence speaks well of Trump's relationship with staff, before contrasting clips of ex-administration officials criticizing the president are reeled off.
In one clip from an ABC News interview, the former National Security Adviser John Bolton says: "I don't think he's fit for office."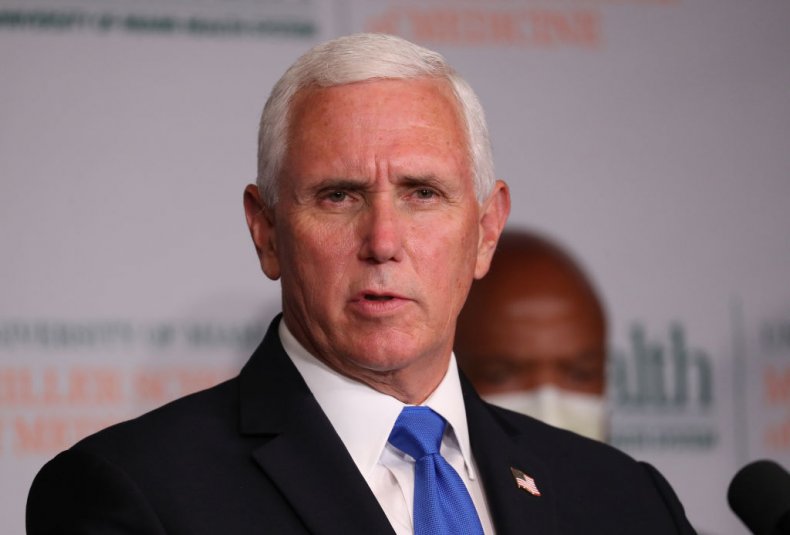 The president's ex-attorney Michael Cohen can also be seen calling his former client a "racist," conman and a "cheat" during an explosive 2019 House oversight committee hearing.
Cutting back to the vice president's 2016 acceptance speech, the Lincoln Project meme shows Pence promising Trump would "never turn his back on those who serve and protect us at home and abroad," before breaking to news coverage of Russia allegedly paying the Taliban bounties for killing U.S. troops in Afghanistan.
The new social media attack ad also questioned Trump's record on the coronavirus pandemic, racial inequality and unifying a divided country.
At the time of writing, the Lincoln Project video has been watched 323,000 times, shared by 6,000 Twitter users and liked by more than 14,000. The clip has not yet been posted to the group's other social media channels.
The Lincoln Project posted its latest viral attack on the Trump administration two days after unveiling another advert endorsing Democratic nominee Joe Biden's presidential run.
In the advert released on Monday, the anti-Trump Republicans painted Biden as a strong single father from "humble" beginnings who had endured family tragedies over his decades in public service.
"Shaped by both tragedy and love, Joe Biden's public service is defined by compassion for others," the ad said. "He knows the pain American families experience."
The group also tried to make light of the former vice president's gaffe-prone nature in the ad viewed more than 800,000 times as of Thursday morning. "You know he's got a sense of humor, and like all of us, makes the occasional gaffe," the Lincoln Project narrator says.
According to the latest Federal Election Commission data, the anti-Trump PAC has spent more than $8.5 million so far in the 2020 presidential race, and has more than $10 million cash on hand for further attack ads.
Lincoln Project Meme Mocks Mike Pence VP Acceptance Speech | U.S.