Lincoln Project Releases Grim New Ad As Trump Recovers from COVID
An advertisement released Tuesday by Republican anti-Trump group The Lincoln Project criticized President Donald Trump's response to the coronavirus, specifically the American death toll.
Trump was released from a three-day stay at Walter Reed National Military Medical Center on Monday where he was treated for COVID-19. In a video statement, Trump said people should not worry about contracting COVID-19. Data from Monday showed that 215,032 people in the U.S. had died from coronavirus.
"Donald Trump has recovered from COVID-19," the advertisement read while the sound of labored breathing through a ventilator is heard in the background. "But more than 200,000 Americans will never recover from Donald Trump."
"America or Trump," the ad concludes.
Founded by Republicans, The Lincoln Project's stated goal is to "defeat Trump and Trumpism," supporting candidates that have not "abandoned their constitutional oaths" regardless of party affiliation.
Newsweek reached out to the Trump re-election campaign for comment.
Trump's return to the White House Monday was marked by a photo opportunity where Trump, still potentially symptomatic, removed his face mask. Shortly afterward, Trump posted a video to Twitter in which he said his personal experience with COVID-19 allowed him to "learn so much about coronavirus. And one thing that's for certain. Don't let it dominate you. Don't be afraid of it. We're gonna beat it. We have the best medical equipment, best medicines."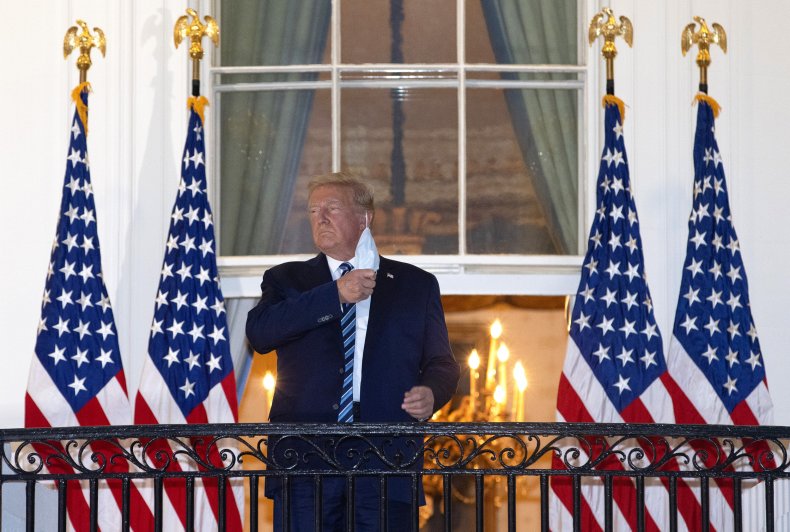 During a town hall meeting on MSNBC on Monday, Democratic presidential candidate Joe Biden said he had hoped that Trump would be telling Americans to wear face masks in order to help curb the spread of the coronavirus.
"There's a lot to be concerned about," Biden said. "You have about 1,000 people a day getting the coronavirus, 50,000 a week. So it's of great concern."
Trump turned to social media Tuesday to compare the coronavirus with the flu. "Many people every year, sometimes over 100,00, and despite the Vaccine, die from the Flu. Are we going to close down our Country?" Trump posted. "No, we have learned to live with it, just like we are learning to live with Covid, in most populations far less lethal!!!"
Twitter flagged the post for "spreading misleading and potentially harmful information related to COVID-19." Facebook removed the post entirely.
Although Trump has said that coronavirus vaccines would be available to the public in October, the Federal Food and Drug Administration has not yet approved one for use. However, five COVID-19 vaccines are in phase three trials.
Infectious diseases expert Dr. Anthony Fauci said Monday on CNN that experts should know if a vaccine is safe "by the time we get to November or December." When it becomes available, the distribution of the vaccine is expected to be prioritized. Front-line health workers and those with a higher risk of contracting the virus are expected to receive the vaccine before the rest of the population.