Lincoln Project Releases Video Criticizing Trump's Pandemic Remarks and Well-Wishes to Ghislaine Maxwell
The Lincoln Project released on Wednesday a new video on Twitter criticizing President Donald Trump's response to the coronavirus pandemic as well as his recent comments about Ghislaine Maxwell.
The video begins with a black screen that reads "OVER 140,000 AMERICANS DEAD?" and shortly cuts to Trump saying "it is what it is."
The video references a Fox News interview with Trump that aired this past Sunday. In it, Trump and host Chris Wallace discuss the number of coronavirus cases in the U.S. and the death rate.
"Excuse me, it's all too much, it shouldn't be one case. It came from China, they should've never let it escape, they should've never let it out, but it is what it is," Trump said. He then suggests the U.S. has so many virus cases because of the increased testing.
After showing the number of deaths caused by the coronavirus, the Lincoln Project video displays a screen that reads "40 MILLION PEOPLE UNEMPLOYED?," followed by the clip of Trump saying "it is what it is" again.
The video then touches on the ongoing protests against police brutality sparked by the death of George Floyd last May in Minneapolis. "GOVERNMENT AGENTS SNATCHING PEOPLE OFF THE STREETS?" the video clip reads, followed by Trump once again saying "it is what it is."
As the Lincoln Project video continues, it brings up the recent arrest of Ghislaine Maxwell, an associate of the late financier Jeffrey Epstein, with a screen that reads "A KNOWN CHILD SEX TRAFFICKER?" while pictures of Trump, Maxwell and Epstein are shown in the background.
The video then cuts to Trump speaking about the recent arrest of Maxwell during a coronavirus briefing at the White House on Tuesday.
"I haven't really been following it too much. I just wish her well, frankly. I've met her numerous times over the years, especially since I lived in Palm Beach, and I guess they lived in Palm Beach," Trump told reporters during the briefing.
Earlier this month, Maxwell pleaded not guilty to sex crime and perjury charges. Prosecutors charge that she helped recruit minors who were sexually abused by Epstein.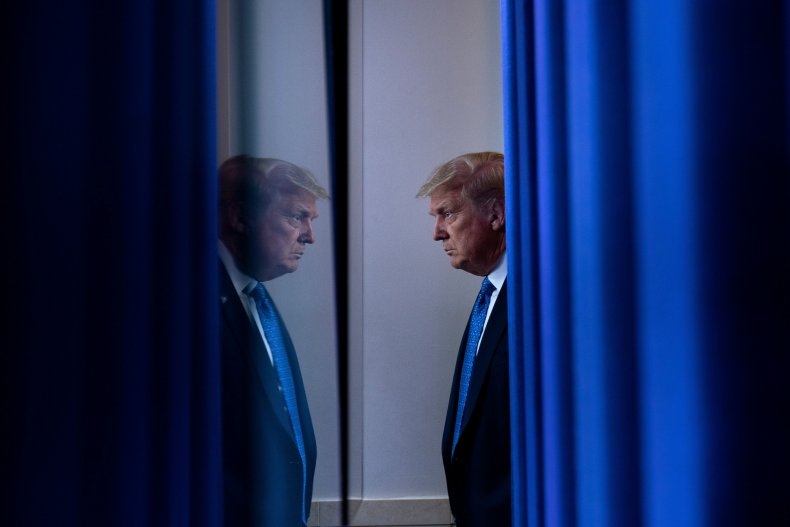 Trump also received criticism for his comments about Maxwell in a similar video released by the GOP group Republican Voters Against Trump.
"You wish her well? No sympathy for Maxwell's victims? No sympathy for young girls who were molested by powerful people?" the video asks.
"I guess this shouldn't be a surprise," the video adds, showing a clip of Trump and Epstein together.
Erin Perrine, director of press communications for Trump's campaign, told Newsweek, "This is the swamp, yet again, trying to take down the duly elected president of the United States. President Trump is the leader of a united Republican Party, where he has earned 94 percent of Republican votes during the primaries, something any former president of any party could only dream of."
Newsweek reached out to the Lincoln Project for comment but did not receive a response in time for publication.
This story was updated to include a statement from the Trump campaign.