Lincoln Project Releases Video With Lindsey Graham's Voice Edited Into Horror Film Scene
The Republican advocacy group The Lincoln Project released a Halloween-themed advertisement on Wednesday taking aim at South Carolina Senator Lindsey Graham's fund-raising efforts.
During interviews, Graham has repeatedly taken the opportunity to ask viewers to donate to his re-election campaign against Democratic opponent Jaime Harrison. In October, Harrison's campaign announced it had raised $57 million in the third quarter of 2020, the most raised by any U.S. Senate candidate. During the same timeframe, Graham's campaign raised $28 million. Graham has been a senator since 2002. The Lincoln Project describes its mission as defeating President Donald Trump and "Trumpism at the ballot box" on its website.
"These donor calls are getting really intense," The Lincoln Project tweeted.
Graham's voice was inserted into a clip from the horror film Scream 2. In the scene, a character played by Neve Campbell is taunted by the mask-wearing villain Ghostface over the phone. After Campbell answers the phone, Graham's voice can be heard to say, "They're gonna spend $100 million to take me out."
"What do you want?" Campbell asks.
"What can you do?" Graham replies. "I'm gonna be up here all week. I won't be at home."
"Then why don't you show your face, you [censored] coward?" Campbell replies. At that point, a photo of Graham is placed atop Ghostface rushing through the front door towards Campbell. "Lindsey Graham dot com," says a Graham voiceover. "Help me!"
Newsweek reached out to Graham's office for comment.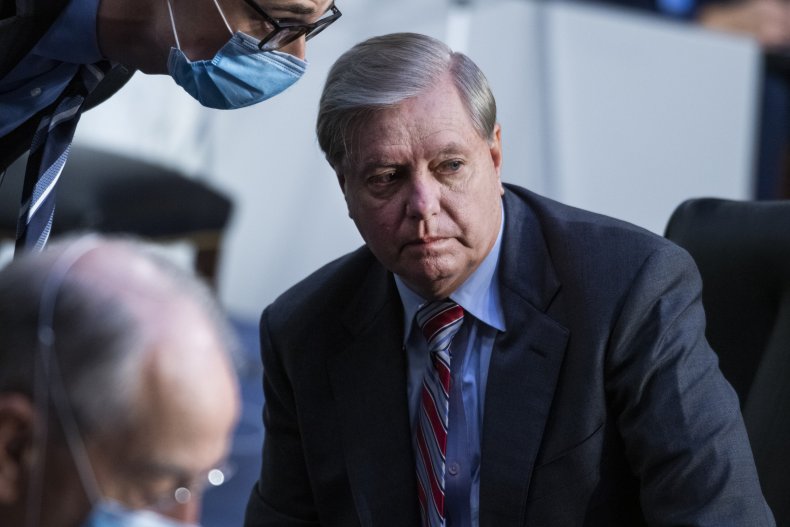 A majority of Graham's comments in the video were taken from a Tuesday interview with Sean Hannity on Fox News. Graham has asked for campaign donations through his website approximately nine times during Fox News appearances since September.
Graham and Harrison are running a tight race for the Senate seat. Polling website RealClearPolitics has labeled the contest a toss-up.
As Senate Judiciary Committee chair, Graham has been involved in the October confirmation hearings for Supreme Court nominee Judge Amy Coney Barrett. While discussing the Brown v. Board of Education ruling which abolished school segregation, Graham asked Barrett if she was aware of "any effort to go back to the good old days of segregation by a legislative body."
Harrison's campaign quickly responded to Graham's statement.
"Even as peaceful protesters demonstrate across our state for equality and justice," Harrison campaign spokesperson Guy King said in a statement, "Lindsey can't help but refer fondly to a time of violent oppression and segregation against African Americans."
Graham told reporters in October that his comment was "made with dripping sarcasm."
"There are plenty of differences between my opponent and myself," Graham said. "Manufacturing the scenario that Lindsey Graham wants to go back to the days of segregation is not worthy of the times in which we live, is not worthy of an assault on me."