Lincoln Project Takes Aim at Trump's Alleged Failure to Provide a Health Care Plan
The Lincoln Project released an online video on Friday highlighting President Donald Trump's health care plan, or the alleged lack thereof.
The video consists of more than 15 instances, taken from public comments Trump made between January 2017 to October 2020 in which Trump promised his administration would unveil its national health care plan. So far, no such plan has been introduced. Democratic presidential nominee Joe Biden has attacked Trump's coronavirus response and the administration's attempts to overturn the Affordable Care Act (ACA), also known as Obamacare.
"Trump's healthcare plan is around the corner," The Lincoln Project tweeted.
The Lincoln Project is comprised of Republicans that do not support Trump and are working to see Trump defeated in the November election.
Trump has long said that a health care plan is on the way, but has offered mixed messages on how much of the new plan has been completed.
In an interview with 60 Minutes expected to be broadcast on Sunday, Trump told CBS News correspondent Lesley Stahl that the plan was "fully developed. It's going to be announced very soon when we see what happens with Obamacare, which is not good."
Later during the same interview, Trump said he hoped Obamacare would be ended "because we will come up with a plan," Trump said.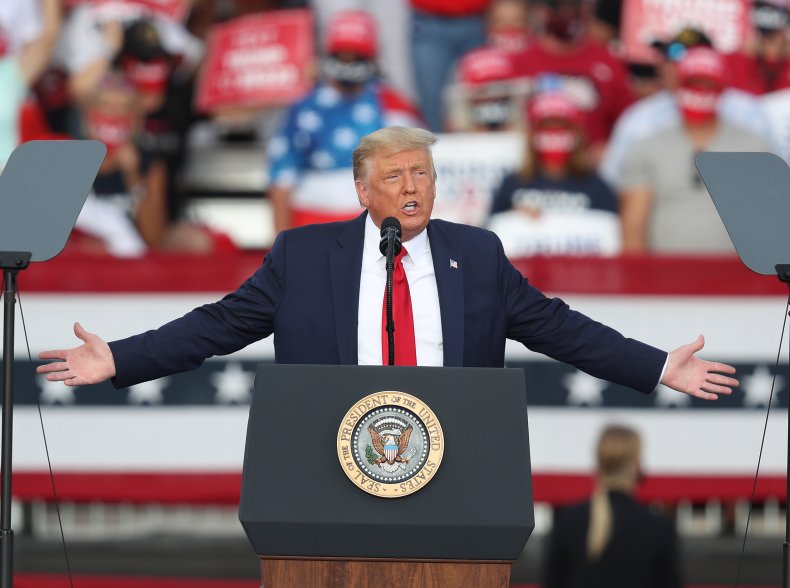 During Thursday's final presidential debate of the 2020 election cycle, Biden criticized Trump's response to the COVID-19 pandemic and warned of an increase in coronavirus cases during the coming winter.
"We're about to go into a dark winter," Biden said. "A dark winter, and [Trump] has no clear plan and there's no prospect that there's going to be a vaccine available for the majority of the American people before the middle of next year."
"I don't think we're going to have a dark winter at all," Trump said.
Trump has said that when coronavirus vaccines are approved, they will be distributed by the U.S. military with seniors and high-risk patients receiving the vaccines first. Trump also said in October that the medications would be provided free of charge.
Despite not having unveiled a comprehensive health care program, the Trump administration asked the U.S. Supreme Court to overturn the ACA in June. If the attempt is successful, millions of Americans could be left without health insurance coverage. Biden criticized the lawsuit. "I think it's cruel, it's heartless, it's callous," Biden said in June.
Biden's health care plan would build on and expand the ACA. On Thursday, Biden said he would enroll qualifying individuals into the Medicaid program.
"What I'm going to do is pass Obamacare with a public option," Biden said, adding that he would change the popular name of the program to Bidencare.
Trump has alleged that a Biden administration would lead to socialized medicine, disallowing individuals to hold private health insurance.
Newsweek reached out to the Trump campaign for comment.