The Lincoln Project is hitting Donald Trump again—this time partnering with a well-known Latino cartoonist from Los Angeles who never thought he would work with Republicans.
The group made up of veteran Republican strategists, who have endorsed Democrat Joe Biden for president, partnered on a political cartoon with pioneering artist Lalo Alcaraz, who created La Cucaracha, the first nationally syndicated, political Latino daily comic strip.
Alcaraz is no stranger to politics. The Chicano artist parlayed leading the fight against Disney's attempt to trademark "Dia de los Muertos" into working on Pixar's Coco as a cultural consultant. There was a time the Californian wouldn't dream of speaking to Republican operatives, but that has changed now that some are trying to defeat Trump.
"The threat to the Latino community is so bad I had to join up with Republicans to try to stop it," Alcaraz told Newsweek. "Just the damage this guy is doing with his inept handling of this really awful crisis that affects all of our communities, but hits black and brown and native communities hardest."
The cartoon, which will run on The Lincoln Project's social media sites, shows the president holding a rally with the coronavirus, with rally-goers represented as Texas, Florida, Arizona, and Oklahoma, states where the virus is spiking. In trademark political cartoon fashion, it includes bits of truth. The cartoon says "No Mask Zone" and "No Waiver No Entry" after reports that Trump's campaign removed social distancing signs in the arena before the president's Tulsa rally and had people sign waivers to "assume all risks related to exposure to COVID-19."
"The anti-mask effort disproportionately impacting black and brown communities is a largely white movement," Mike Madrid, a co-founder of the group, told Newsweek.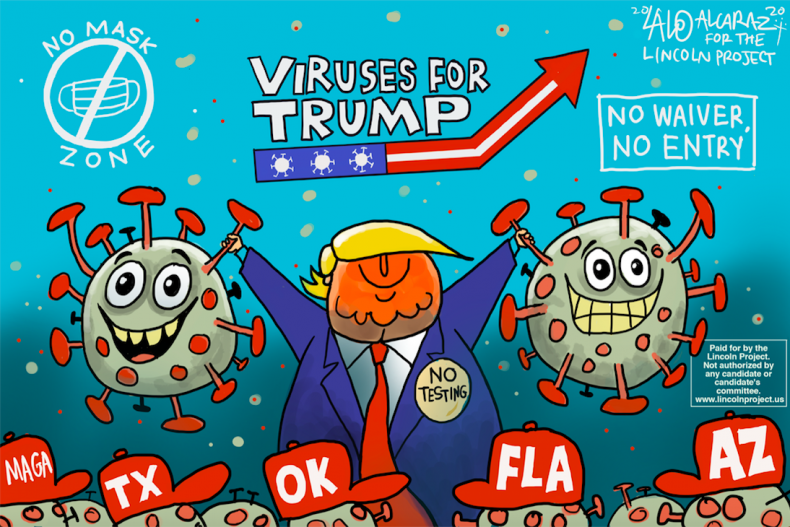 In Alcaraz, the group saw an opportunity to partner with someone who could expand not only its audience, but also the tent of the Republican Party as conservatives across the country decide if they want to reelect Trump. "The essence of The Lincoln Project is about building a bigger, inclusive movement and the more we're able to contrast what Republicans can be, it captures in people's mind the descent of Trump's Republican Party into a dead end," Madrid said. "Lalo has a voice that speaks to an emerging constituency. He reps not just Latino culture, but our American culture."
The Lincoln Project has gotten under Trump's skin when it comes to his leadership during the pandemic. The group spent $1.4 million against him in the first quarter and raised another $1 million after he slammed the group in May for their ad on his coronavirus response.
Now, the group is hitting Trump as the virus surges in four states led by Republican governors who moved to reopen their states and have been in lockstep with the president, the timing of which hurts Trump as he seeks to shake up his reelection campaign. But while three of the states have large Hispanic populations, and approximately three in ten Hispanic voters continue to identify as Republican, Madrid said the partnership with Alcaraz shouldn't be seen strictly as a Latino voter outreach effort.
Having worked on George W. Bush's presidential campaign in 2000, which incorporated Latino engagement into the campaign without separating it, he said the goal is for an effort like this to fit into the broader thematic The Lincoln Project is trying to push of all Republicans who want a more aspirational party.
The Trump campaign did not respond to a request for comment before publication.
But bringing on Alcaraz means something to Democrats, particularly Latinos in Los Angeles.
"Lalo is an institution," said Democratic strategist Michael Trujillo. "It's like Captain Planet from the 1990s. Earth, fire, wind—all of our powers have to combine to beat Trump."
Alcaraz mused about how some of his fans wouldn't like the collaboration with Republicans, but said it's all in service of getting back to the times when he could argue with conservatives amid lower stakes.
"I miss the old days of arguing about economics, not whether I should be in a camp," Alcaraz joked to Newsweek. "Good old-fashioned Republicans I can argue with, without fearing for my life."