The Lincoln Project Targets Mitch McConnell, Trump in Latest Ads: 'This Is Not Normal'
The latest ads by the Lincoln Project have taken aim at President Donald Trump's claims the election was marred by fraud and portrayed the Georgia Senate runoff in January as essentially a vote on U.S. Senate Majority Leader Mitch McConnell.
A 44-second video released by the anti-Trump group of Republicans shows the attorney Lin Wood, who backs Trump's unsubstantiated claims of fraud, addressing a crowd at a so-called "Stop the Steal" rally in Atlanta, Georgia on Wednesday.
The clip starts with Wood wearing a "Make America Great Again" cap telling a cheering crowd that Trump "knows he won this election."
"He said, 'Lin, I didn't lose it, I won it,'" Wood said, as the words "he didn't" flash across the screen.
Wood goes on to tell the crowd, "Don't you ever concede Mr. President, you won this election. America voted for you, stay in the White House."
A caption then appears saying: "Donald Trump lost by 7 million votes. He still refuses to concede. This is not normal."
At the rally, Wood had also tried to cast doubt on whether conservative votes would be secured in the runoff election which takes place on January 5, with early voting starting December 14.
The battle between Republican Sens. Kelly Loeffler and David Perdue against Democrat challengers Raphael Warnock and Jon Ossoff, respectively, will determine who controls the U.S. Senate. Wood told the crowd: "Why would you go back and vote in another rigged election." However, Georgia State Rep. Vernon Jones who was also at the rally, urged voters to turn out.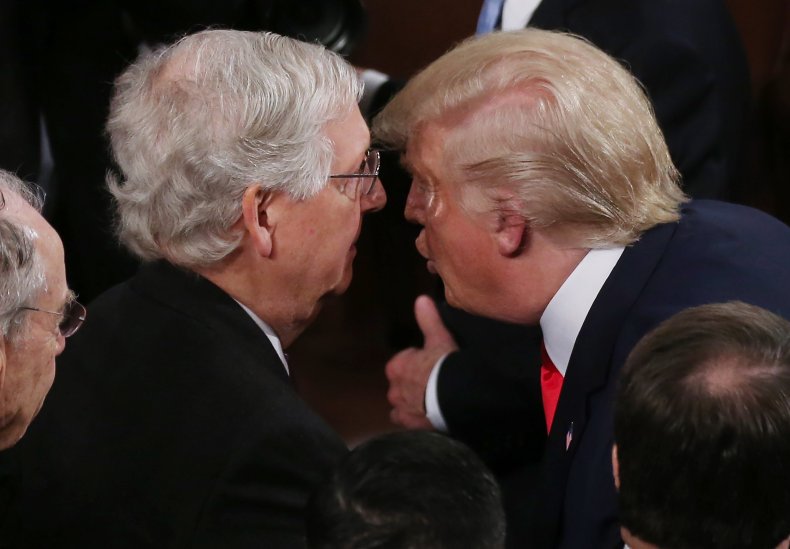 Another Lincoln Project ad released earlier on Wednesday, said that when Georgians vote in January, it was a ballot for the Senate Majority leader and Trump's legacy which was really up for grabs.
"You might think this ad is about Kelly Loeffler and David Perdue," the narrator says, "They embraced the crazy conspiracy nuts. But they aren't really on the ballot."
"Jon Ossoff and Raphael Warnock are really running against Mitch McConnell," the narrator warns. "If Mitch elects his pet Senators, it's four more years of what we just voted out."
The narrator goes on to say McConnell would block COVID relief for Georgians, prevent President-elect Joe Biden from appointing qualified medical experts to stop the pandemic. He said that Loeffler and Perdue "will vote with McConnell every time, no matter how much it hurts Georgia."
"You won't see McConnell's name on the ballot. But he's there," the narrator says at the end of the ad, which will air this week in major Georgia markets such as Albany and Augusta. Newsweek has contacted Loeffler's office for comment.
A spokesperson for Perdue's campaign told Newsweek in a statement: "Leader McConnell and Senator Perdue helped to lead the greatest economic comeback in American history, confirm judges who uphold the Constitution, and provide more Americans more choices in health care.
"If Jon Ossoff wins Georgia, he'll be the vote [Senate minority leader] Chuck Schumer needs to dismantle that progress and implement his socialist agenda with total Democratic control of Congress."
This story has been updated to include a statement to Newsweek from Sen. Perdue's campaign.