Anti-Trump group The Lincoln Project is to target people aiding the president in election-related legal disputes as he insists widespread fraud and irregularities tipped the result against him—without substantiating such claims. The group caused a controversy on Twitter on Tuesday when it posted a message violating the social media site's anti-harassment guidelines.
While the group frequently targeted President Donald Trump and lawmakers aligned with him in the run-up to the election, it is now pivoting to focus on those facilitating his recent behavior. It comes as Trump's campaign persists with a raft of lawsuits and his personal lawyer Rudy Giuliani claims there is more legal action to come.
"We are back in the fight, we will hold people to account," Reed Galen, an independent political strategist and one of the Lincoln Project's co-founders, told Newsweek.
Galen said the group would concentrate more on "the people who are actually aiding and abetting in the farce that is the lawsuits."
"If you're out there supporting lies about the electoral process then there's a chance that we are going to take a look at you," he said.
The group has in recent days targeted law firms with links to the Trump campaign. Lincoln Project also encouraged followers to join the professional networking site LinkedIn so they can message employees of Jones Day and Porter Wright Morris & Arthur.
The Lincoln Project also caused a controversy by posting publicly available photos and contact information for two Porter Wright attorneys involved in a lawsuit looking at alleged irregularities in Pennsylvania. In a now deleted tweet, it wrote: "Make them famous."
The tweet ran afoul of Twitter's policy on not posting messages "Encouraging or calling for others to harass an individual or group of people." The Lincoln Project's Twitter account was locked for a time until the tweet was removed.
Jones Day issued a statement on Tuesday distancing itself from Trump's election lawsuits.
"Jones Day is not representing President Trump, his campaign or any affiliated party in any litigation alleging voter fraud," the statement read.
"Jones Day also is not representing any entity in any litigation challenging or contesting the results of the 2020 general election. Media reports to the contrary are false."
However, it added that it was representing the Republican Party of Pennsylvania, in a lawsuit that seeks to question the constitutionality of extending the deadline for returning mail-in ballots in the state.
"This case presents an important and recurring rule-of-law question under the U.S.," its statement read. "Jones Day will not withdraw from that representation."
The Washington Post previously reported that the Lincoln Project would launch "a multiplatform campaign" against firms involved in election lawsuits linked to Trump.
The group attacked Trump in the run-up to November 3, notably in cutting adverts criticizing his performance as president. Trump has branded those involved in the group "losers." Many of its key members are former Republican strategists or consultants who do not wish to see Trump re-elected.
The group describes its mission as to "defeat President Trump and Trumpism at the ballot box."
Newsweek has contacted the Trump campaign and the law firms mentioned for comment on the Lincoln Project's actions.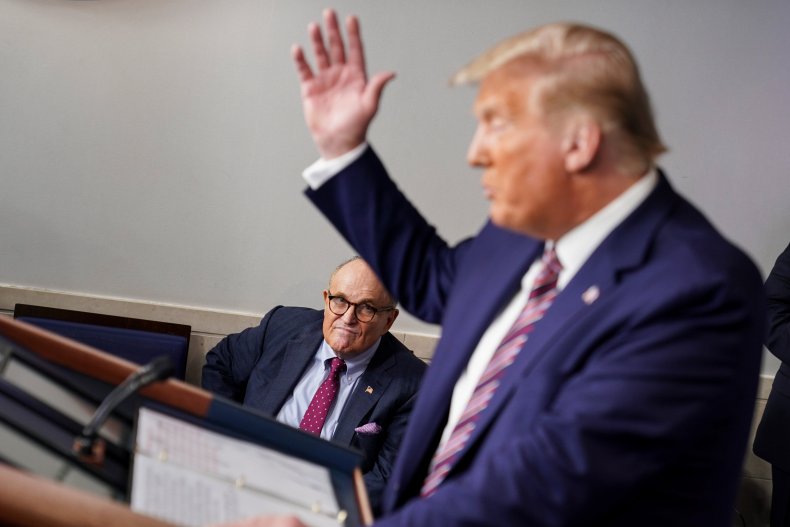 Update 11/11/20, 13:10 p.m. ET: This article was updated to include additional information about The Lincoln Project's Twitter account being locked. The headline of this article was updated to reflect this.