Lincoln Project Attacks 'Unpatriotic' and 'Dangerous' Republican Rising Stars in New Ad
The Lincoln Project called several Republican leaders and rising stars in the party "dangerous" and "unpatriotic" in a new attack ad released weeks after President Donald Trump's election defeat at the hands of Democratic President-elect Joe Biden.
The conservative anti-Trump super PAC created by ex-Republican staffers took aim at Republican Senators Kelly Loeffler and David Perdue—who are both fighting Senate runoff elections in Georgia in January next year—as well as other lawmakers tipped to be future GOP leaders, such as Sen. Josh Hawley of Missouri.
In their latest post-election attack spot, the Lincoln Project claimed the senators, among others, were "waiting in the wings" to "dismantle" American democracy once President Trump leaves office.
The group also argued that the Republican rising stars, along with existing GOP leadership figures, cared little for the ideas of republicanism or the Constitution.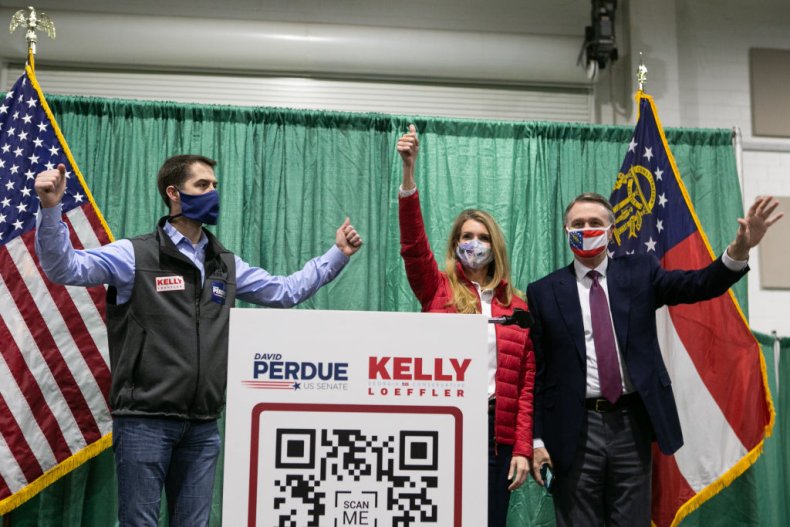 Posting the one-minute ad on social media, the Lincoln Project said: "They are treasonous, unpatriotic, downright despotic, but most importantly, dangerous. Because while Trump has shown himself to be feckless and pathetic and unmoored in the chaos he has attempted to sow, there are others waiting in the wings, waiting for their turn to dismantle our democracy.
"And they are not so vacuous, and insecure, and self-absorbed. From this presidential embarrassment, they see a full and total shift toward authoritarianism. Those are Republicans? We think not."
Newsweek has contacted some of the senators pictured in the advert for comment. This article will be updated with any response.
At the time of writing, the video has been watched more than 700,000 times and shared by more than 60,000 Twitter users within the first 14 hours of its release.
The Lincoln Project released a similar advert a little more than a week after the November 3 elections, comparing the Republican Party to China, North Korea and other authoritarian nations over the refusal to concede to President-elect Biden.
"Most Republican leaders are refusing to accept the outcome of the democratic process. It's shameful, cowardly and un-American," the 67-second advert said. "Across the globe, our enemies attack America by saying we really aren't a democracy."
The anti-Trump super PAC was criticized earlier this month after it posted a message that violated Twitter's anti-harassment rules.
In one post, the group posted the pictures and contact information of two Porter Wright Morris & Arthur attorneys previously involved in a Trump campaign lawsuit. The now deleted post read: "Make them famous."