Lincoln Project Video Blasts 'Un-American' Trump: '545 Children Will Never See Their Parents Again'
A new video ad released Wednesday by the Lincoln Project takes aim at President Donald Trump's immigration policy that has left at least 545 migrant children without their parents, labeling it "un-American."
The Lincoln Project, a political action committee of Republicans who oppose Trump's re-election, partnered with People for the American Way (PFAW) for the latest ad just six days ahead of the November 3 election. PFAW is a progressive advocacy non-profit group "founded to fight right-wing extremism and build a democratic society," according to its website.
The one-minute video features a female narrator discussing the implications of Trump's "zero tolerance" immigration policy, which allowed prosecutors to file criminal charges against those who crossed the border without authorization, The New York Times reported. This included parents, who were then separated from their children once they were taken into custody.
Court documents filed last week found that since the Trump administration began its practice of separating migrant children from their parents in 2017, the parents of 545 of those children still have not been found, the Times reported.
"Trump's plan was to crush immigrant children, tearing them from their parent's arms, locking them in cages," the ad's narrator states. "That was the plan from the start. Now 545 children are alone in the world. They will never see their parents again, never hear 'I love you' from their mother or father."
The ad is set to children's music and features images and videos of children crying and sleeping behind chain link fences, empty playgrounds, and rows of empty bunk beds presumably located in immigration detention facilities.
"It's inhuman, it's sick, it's un-American," the narrator states.
The ad, simply titled "Cruel" on YouTube, concludes with an audio byte of Trump responding to the report on October 22, during the final presidential debate between him and Democratic nominee Joe Biden. "They are so well taken care of," Trump said of the migrant children who cannot find their parents.
Newsweek contacted the Trump campaign for comment, but did not hear back in time for publication.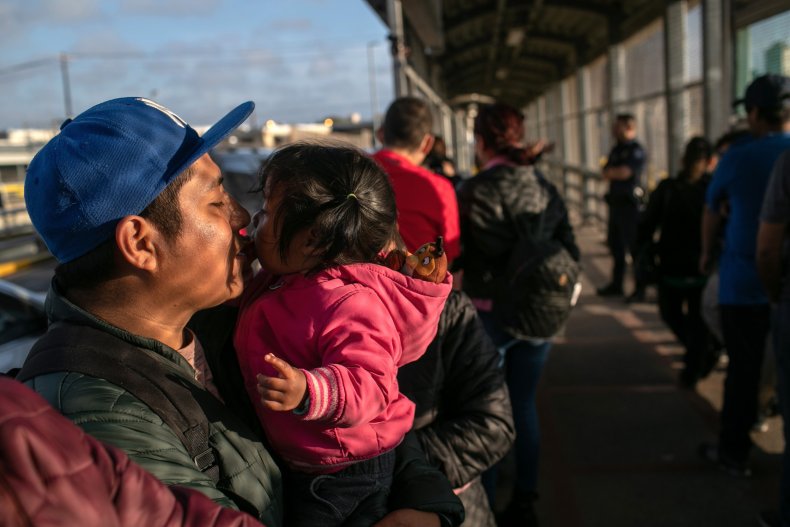 Trump continues to trail Biden in nearly every national poll. In a YouGov survey conducted between October 25 and October 27, more than half of the 1,500 registered voters (51 percent) picked Biden, compared to the 40 percent who chose Trump.
In an Emerson College survey conducted on October 25 and 26 among likely voters, 51 percent said they supported Biden, compared to the 47 percent who chose Trump. Polling website FiveThirtyEight's national average placed Biden 8.6 percentage points ahead of Trump as of October 28.