Lincoln Project Video Tells Trump 'You're Getting Played' by McConnell, GOP 'Using Your Name'
The Lincoln Project is warning former President Donald Trump that he's being used by the Republican Party.
Addressing Trump directly, a new video released by the PAC on Monday said, "Mitch McConnell's Washington consultants are making big money using your name. We don't know if Mitch gets a cut, but what do you think, Donald?"
"You're getting played," the voiceover continues. "He's picking candidates loyal to him. They brought you a little bowl to hold in your little hands and you fell for it. They're laughing at you, all the way to the bank."
The anti-Trump Republican PAC suggested that Trump lost to the same swamp that he infamously promised to "drain" during his 2016 campaign.
"The swamp won, Donald," the narrator says.
"Maybe you shouldn't run again," the Lincoln Project video concludes. "Maybe the power Mitch McConnell has over the GOP is just too much for you. Maybe what McConnell and the rest of Washington is saying is true—that Trump is done."
While Trump and McConnell were allies in the past, relations between the two have soured since the January 6 Capitol riot. Following the deadly siege, McConnell blamed Trump for the rioting and suggested that he may still be criminally liable for offenses Trump committed while in office.
Trump has also turned on McConnell since leaving the White House, condemning the Senate minority leader for not backing him in his unsubstantiated claims of a stolen election. Trump has called McConnell a "weak" leader and has urged his supporters to donate to GOP primary candidates he's endorsed over those endorsed by McConnell.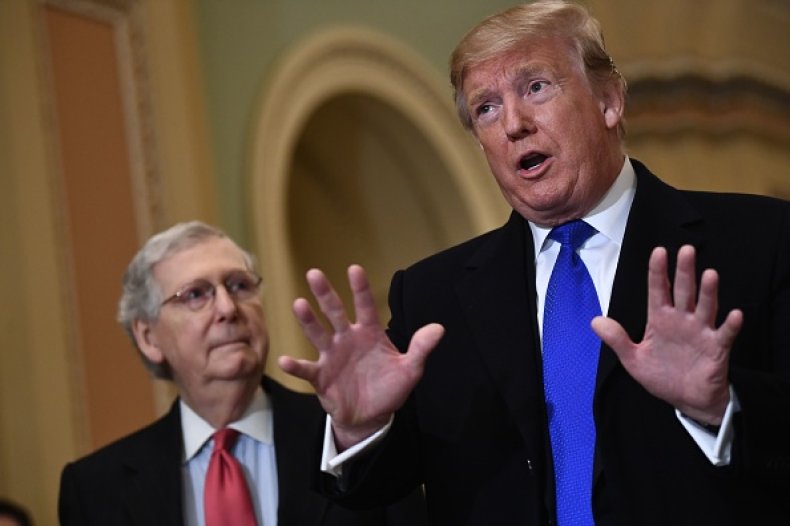 In an interview with Fox Business' Maria Bartiromo last week, Trump said he thinks Republicans will do well in 2022 but that the Senate needs new leadership.
"I think we're going to do very well. We need good leadership. Mitch McConnell has not done a great job, I think they should change Mitch McConnell," Trump said.
In a statement made shortly after, Trump added that if "Republican senators are going to stay with [McConnell], they will not win again."
McConnell has refrained from commenting on the recent attacks against him, saying he's concentrating on winning back a Republican majority in 2022.
"What I'm concentrating on is the future, and what we are confronted with here is a totally left-wing administration, with a slight majority in the House, a 50-50 Senate trying to transform America into something no one voted for last year," the Kentucky Republican told reporters last month.
Back in March, Trump and the Republican National Committee also clashed over whether the party's campaign arm could legally use Trump's name in its fundraising efforts. The RNC dismissed a cease-and-desist letter from Trump's attorneys, saying the GOP "has every right to refer to public figures as it engages in core, First Amendment-protected political speech, and it will continue to do so in pursuit of these common goals."
"The RNC is grateful for the past and continued support President Trump has given to the committee and it looks forward to working with him to elect Republicans across the country," wrote RNC Chief Counsel Justin Riemer.
Newsweek reached out to McConnell's office for comment but did not hear back before publication.