Lincoln Tunnel Flooding Video is Every New Yorker's Nightmare Come True
Like a scene from Sylvester Stallone action movie Daylight, a driver captured the terrifying scene of water spilling into New York tunnel under the Hudson River, on Tuesday evening.
Motorist Anthony Consiglio posted the story on his Instagram, after sitting in still traffic during the tunnel flood. The footage shows the water rushing in from the barriers of the tunnel and pouring on to the road, while his vehicle is stationary, in non-moving traffic.
"Well, that's concerning," said Consiglio in the footage, "I'm pretty sure there's a movie about this and everybody dies," he mused in the video.
The Holland Tunnel was used in the Daylight movie, but the tunnel in Consiglio's recent video posted on social media was actually captured at Lincoln Tunnel, which connects Midtown Manhattan to New Jersey and is roughly 1.5 miles long, sitting 97 feet under water at its deepest point.
Twitter and TikTok users have been posting comments about the video, which has gone gone viral since the original upload.
"Who has "Lincoln Tunnel leak" on their 2020 Bingo card?" joked one user named InMinivanHell.
"Why is it that the thought of being underground during a horrific accident/incident/etc is more frightening than being above ground on a bridge to me?" said another social media user named Regina Phalange.
"Would have actually had a heart attack and died. Terrified of bridges and tunnels," said Twitter user Tyler April Townley.
"I always thought my worries about water seeping into a tunnel were irrational. Apparently it *can* happen. Yikes!" Tweeted Kimberly Acquaviva.
"As a US resident (In NJ) I think I'm pretty fatigued from 2020. This is just piling on at this point. Imagine if that tunnel collapsed?," said user ChaseJ.
The Lincoln Tunnel posted some official information on it's Twitter account during the incident. "The Lincoln Tunnel to NJ Center Tube has the left lane closed for approximately 30 minutes due to emergency maintenance."
The leak was supposedly caused by "a water main rupture," said the Port Authority of New York and New Jersey to Newsweek. It "was reported in a facility room in the Center Tube on Tuesday evening. It was fixed and all water from the rupture has been pumped out as designed."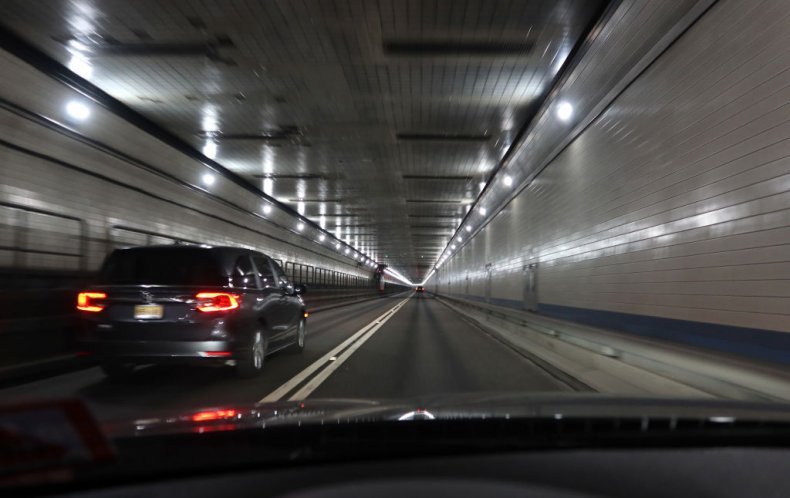 Opened in 1937, the Lincoln Tunnel cost around $1.5 billion to build and was hailed a great feat in engineering. It has three tunnels, is considered one of the busiest stretches of road in the U.S., and has been used by millions of motorists visiting and leaving New York City.
Update 7/1720: This article was updated with a quote from the Port Authority of New York and New Jersey.