Who Was Linda Brown? Kansas Activist Who Challenged Racial Segregation Dies
Linda Brown, who fought against racial segregation in schools in Kansas and was at the center of a landmark Supreme Court case, has died.
Brown's death was confirmed by her sister Cheryl Brown Henderson to The Topeka Capital-Journal, a Kansas-based publication. The Peaceful Rest Funeral Chapel of Topeka, which is handling the funeral arrangement, confirmed that Brown died on Sunday afternoon, aged 75, the Associated Press reported, but no cause of death was released.
Brown's name became associated with the struggle to end racial segregation when her family was among those recruited by the National Association for the Advancement of Colored People (NAACP) leadership for a class action suit against the Topeka Board of Education, which was accused of racially segregating children in public schools.
Her father Oliver Brown became the lead plaintiff in the Brown v. Board of Education case, under which the Supreme Court decided to incorporate four similar cases from Delaware, South Carolina, Virginia and the District of Columbia.
Brown, who attended the Monroe Elementary School—one of four all-African American schools in Topeka at the time—was in junior high by the time the Supreme Court issued the landmark 1954 decision in the case, officially ruling against racial segregation in schools.
"We conclude that in the field of public education the doctrine of 'separate but equal' has no place. Separate educational facilities are inherently unequal," read the Chief Justice's unanimous decision.
But the case alone did not change the reality on the ground sufficiently, and Brown found herself continuing the fight 25 years later when she became one of eight parents who demanded the case to be reopened on the grounds that Topeka schools remained effectively segregated. The case would drag on for years, but eventually brought the end of segregated schools in Topeka in 1993.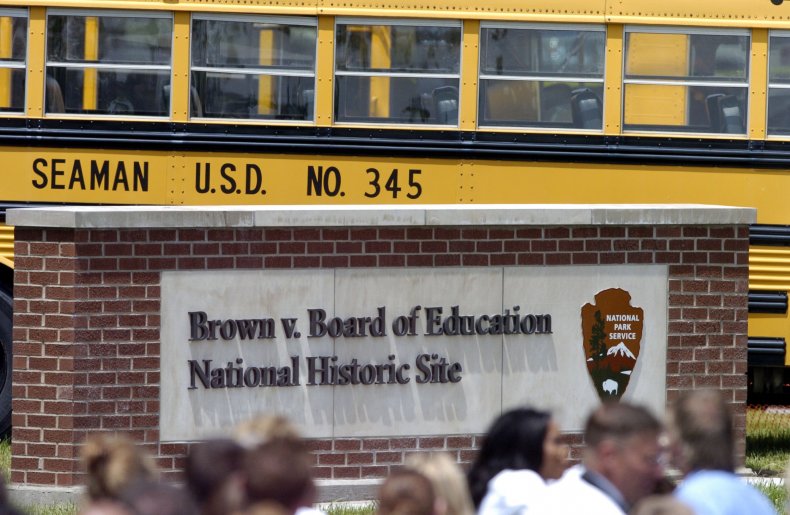 Just a year earlier, President George H. W. Bush signed the Brown v. Board of Education National Historic Site Act of 1992, designating the Monroe Elementary School as a national park. The site would be inaugurated by his son President George W. Bush in 2004.
Kansas Governor Jeff Colyer commended Brown's life as an example of what community activism can achieve. He wrote in a statement: "64 years ago a young girl from Topeka brought a case that ended segregation in public schools in America. Linda Brown's life reminds us that sometimes the most unlikely people can have an incredible impact and that by serving our community we can truly change the world."
Tributes to Brown and her legacy have poured in on social media. "Thank you to Linda Brown for what you stood up for, and the impact it had on this nation. Rest In Peace," wrote Apple CEO Tim Cook.
"Linda Brown's passing is a reminder that our youth have always been our future. Her courage at such a young age to stand up to segregated schools forever changed the fight for our civil rights. I am sending my condolences to the Brown family, along with our entire nation," Senator Kamala Harris of California wrote.
"Linda's father, Oliver, became lead plaintiff in Brown v. Board after trying to enroll her in an all-white school in 1951. She was denied due to her race. NAACP challenged this. The Supreme Court ruled school segregation as unconstitutional in 1954. Hero," wrote Selma director Ava DuVernay.