Amy Klobuchar Returns Donation from Central Park Five Prosecutor Linda Fairstein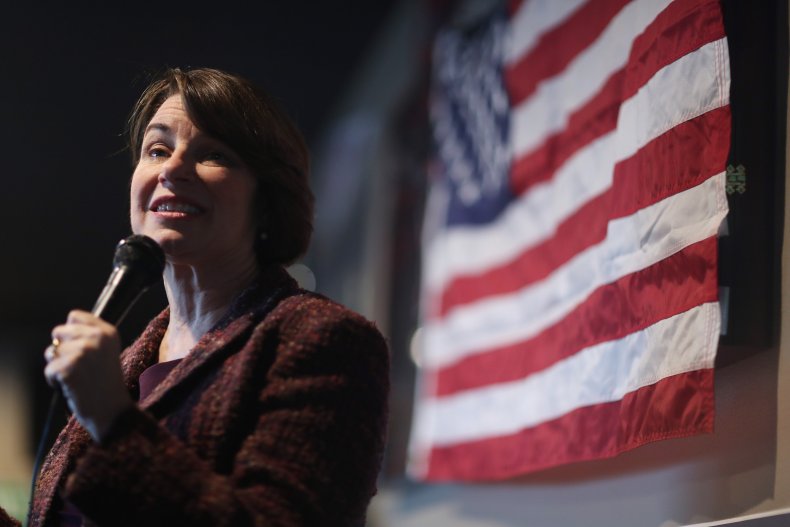 Senator Amy Klobuchar, a former prosecutor running for the Democratic Party's presidential nomination, is returning a campaign donation from Linda Fairstein, the former New York State attorney who oversaw the prosecution of the Central Park Five.
Federal Election Commission records show that Fairstein donated $1,000 to Klobuchar's campaign committee in March 2019, her only contribution in the 2020 primary race to date.
In response to a request for comment about the donation, a campaign spokesperson provided Newsweek the following statement:
"The campaign shouldn't have accepted this contribution and we're returning it."
The Guardian first reported the contribution.
Fairstein has drawn renewed scrutiny for her role in the prosecution of five teenagers—four African American and one Hispanic—for the brutal rape of a Central Park jogger in 1989. The case relied in part on false confessions extracted from each of the boys during lengthy interrogation sessions without the presence of counsel.
Director Ava DuVernay's adaptation of the events into a limited-run series for Netflix has been credited with catalyzing the most recent examination of Fairstein's record.
In 2002, a New York State judge vacated the young men's convictions after a serial rapist, Matias Reyes, confessed to the crime. He had already been serving a life sentence on unrelated charges.
After DuVernay's miniseries began to garner acclaim and stir latent outrage about the handling of the case, Fairstein penned an op-ed for the Wall Street Journal in June calling the adaptation "so full of distortions and falsehoods as to be an outright fabrication."
"Ms. DuVernay's film attempts to portray me as an overzealous prosecutor and a bigot, the police as incompetent or worse, and the five suspects as innocent of all charges against them," Fairstein wrote. "None of this is true."
Fairstein did not respond to a request for comment about the return of her donation to the Klobuchar campaign.
During the de Blasio administration, the Central Park Five settled with New York City for $41 million relating to claims stemming from their wrongful convictions, although the city did not admit to misconduct.
As part of the fallout from DuVernay's miniseries, Glamour magazine all-but-rescinded its 1993 christening of Fairstein as its woman of the year. Fairstein, a novelist, was also dropped by her publisher.
While the Klobuchar donation is her only attempted contribution to the 2020 race thus far, Fairstein has a history of donating to Democratic candidates. In recent years she has donated thousands to Virginia Senator Mark Warner's Senate campaign, Hillary Clinton's presidential run and the Democratic National Committee.
In 2014, Fairstein also made a contribution to the reelection campaign of Maine Senator Susan Collins.