Linda McMahon Wrestles Her Past in Connecticut Senate Race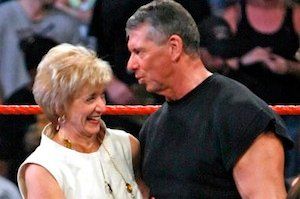 After winning her party's nomination for Connecticut's U.S. Senate seat, Linda McMahon is one step closer to delivering her proposed "smackdown" to Congress. The rhetoric, of course, is a nod to her past as the "first lady of wrestling," CEO of World Wrestling Entertainment. Pundits have also played with the theme; one ticker on MSNBC even asked whether she'll be able to "pin Democrats to the mat."
McMahon has excitedly cited her past as part of her qualifications. One of her campaign ads admits that WWE can seem like a "soap opera," but insists that between all the tough talk and body slams, McMahon "tamed" pro wrestling and brought 500 jobs to Connecticut.
But no one has been more excited about McMahon's record than Democrats. Within two hours of Connecticut polls closing, the Democratic National Committee set its crosshairs on McMahon for the general election in November. Press Secretary Hari Sevugan sent reporters a YouTube clip used by McMahon's primary opponents that shows the would-be candidate kicking a man in the groin. "Today the party of Bob Dole, Jack Kemp and Dick Lugar nominated a candidate who kicks men in the crotch, thinks of scenes of necrophilia as 'entertainment,' and runs an operation where women are forced to bark like dogs," wrote Sevugan. "This is what has become of the once grand old party."
The strategy for Democrats seems clear: focus on the more questionable sides of pro wrestling. Leak to the press old stories from McMahon's time leading the WWE about alleged steroid abuse within the organization. Perhaps even highlight a video of McMahon testifying in 1997 before a House oversight committee and explaining why she suspended random drug testing within the WWE entirely. The more unsavory her past looks, Democrats likely think, the less cut out for governing she'll look.
But will it work? Democrats may not want to count the ballots too soon. For one, running as an outsider clearly has a political advantage this election season, so standing notably apart from the rest of the members of the typically staid body of Congress could be a pro rather than a con. And McMahon's claim that she's a successful businesswoman who can clean up Washington is being used by a host of other onetime CEO candidates who claim that business credentials qualify them for government tasks like cutting waste and balancing budgets. Many, like California gubernatorial contender Meg Whitman and Senate hopeful Carly Fiorina, are polling well.
And that's not to mention the fact that almost-laughable outsiders have won office before. Wrestler Jesse "The Body" Ventura, a pro-wrestling star, was elected governor of Minnesota in 1998 as an independent, and in 2003, when many in California thought a ridiculously buff movie actor couldn't become California's governor, Arnold Schwarzenegger proved them wrong.
McMahon, meanwhile, has been slow to embrace her wrestling past. While she'd like voters to note her business successes and executive savvy, she seems to prefer leaving the less-than-flattering components of wrestling out of the race. Addressing opponents who have highlighted the clips of the groin kick, McMahon called the wrestling references "an action-adventure soap opera."