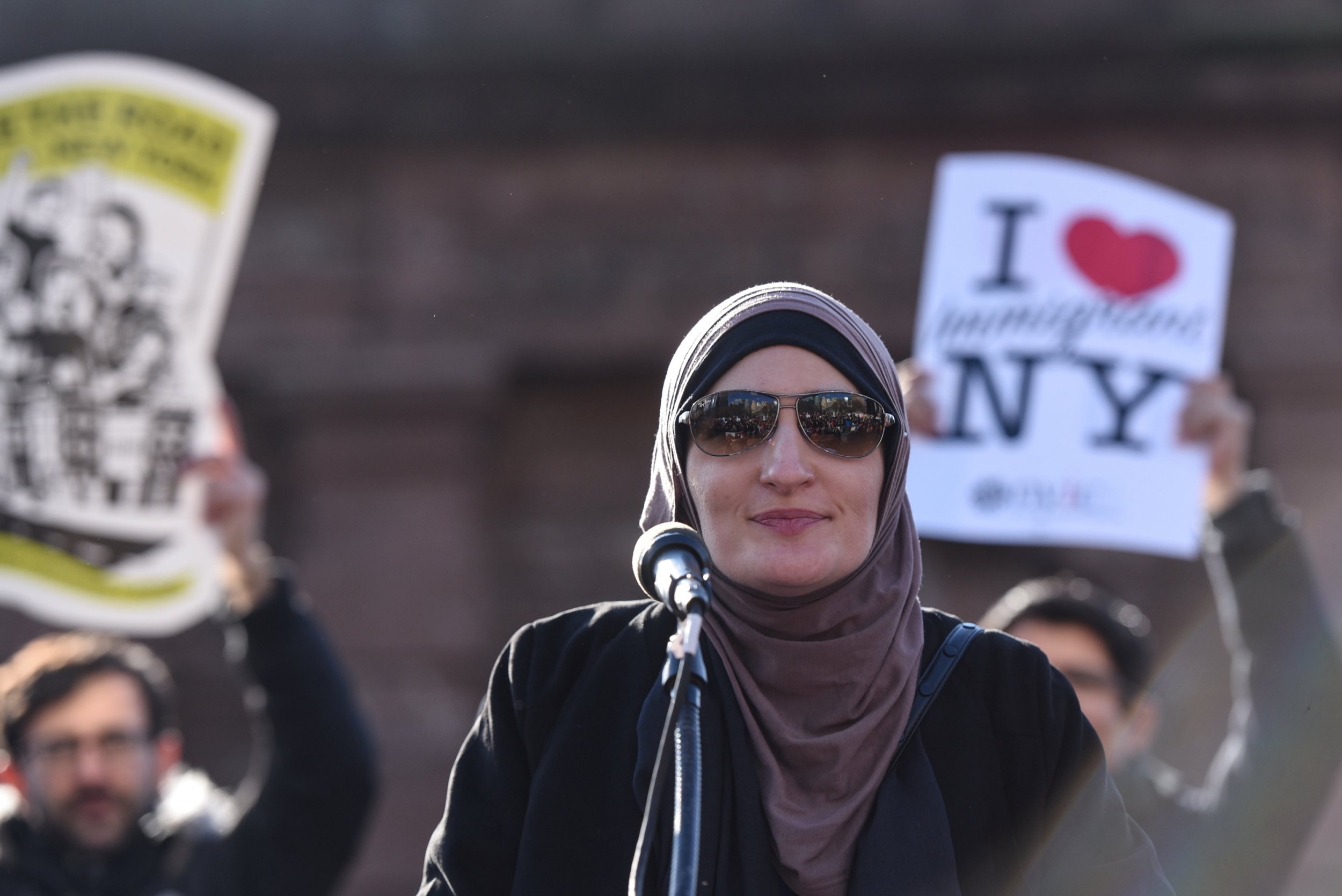 Linda Sarsour has been called a "homegirl in a hijab" by The New York Times for her savvy, outspoken brand of activism. A devout Muslim who hails from Brooklyn, Sarsour was until recently the head of the Arab American Association of New York. She was also one of the organizers of the Women's March on Washington, D.C., to protest Donald Trump's presidency. She has a book deal and she has been on Comedy Central.
Sarsour is also a figure loathed by conservatives, in large part for her support for the movement to boycott, divest from and sanction Israel, which some see as inherently anti-Semitic. Although she has said she wants to see Israelis and Palestinians coexist, many on the right do not trust her. Now, they are mounting a furious campaign to prevent her from speaking at the commencement for the City University of New York's Graduate School of Public Health and Health Policy, which she is slated to do on June 1.
That movement may have gotten a boost from a recording of Sarsour's talk at Dartmouth College in New Hampshire on May 12. During a question-and-answer session that followed the talk, Sarsour was asked about a tweet she'd sent in 2011 about two women who were critical of Islam, Brigitte Gabriel and Ayaan Hirsi Ali.
"I wish I could take their vaginas away," wrote Sarsour in the now-infamous tweet. "They don't deserve to be women."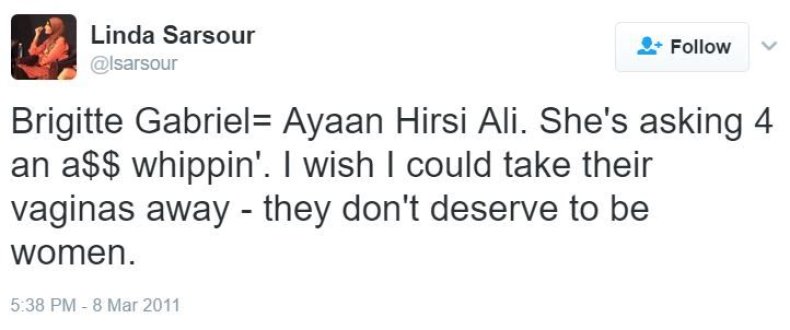 The tweet was later deleted, but, as is often the case, was screen-captured by her detractors, who have disseminated it ever since as proof of her intolerant, retrograde views.
At the Dartmouth talk, a student asked about that tweet. The student was an activist with CAMERA on Campus, a branch of the Comittee for Accuracy in Middle East Reporting in America, an organization that points out anti-Israeli bias in the media. Sarsour responded by attacking him, pointing out that he was a "white man" speaking at an event meant to honor Asian Pacific American Heritage Month. She said the tweet was a "copy and paste that he got from a right-wing blog," seeming to suggest that the offensive message had not come from her account.
Sarsour then defended the tweet at length. "People say stupid shit sometimes, right? I will be judged by my impeccable track record for standing for black lives and immigrants' rights and women's rights," she said, "and LGBT rights, you judge me by that record and not by some tweet you think I did or did not tweet 10 years ago, or seven years ago, or whenever it was. So that's my answer to your question. Next."
The heated exchange was recorded by CAMERA on Campus and subsequently disseminated on social media. The incident was subsequently reported on by Ian Miles Cheong of Heat Street, an outlet that has become known for its pointed attacks on political correctness and identity politics.
Right-leaning outlets quickly seized on the exchange.
"Linda Sarsour Dismisses FGM Question Because A 'White Male' Asked It," said a headline for The Libertarian Republic, using an acronym for female genital mutilation.
Dexter Van Zile wrote scathingly of the exchange for The Algemeiner, an outlet that reports on issues related to Judaism: "By responding as she did, Sarsour suggested that the young man challenging her — because of his skin color — lacked the moral imagination to fully understand the issues being discussed at her talk. As a result, she suggested he had no right to ask a question or even speak at the event. Such rhetoric is deeply dehumanizing, racist and corrosive to civil society."
Meanwhile, calls for CUNY to drop Sarsour have continued, with anti-Islam activist Pamela Geller going so far as to compare Sarsour to Adolf Hitler on a Breitbart News radio show.
Michael D. Cohen, a CUNY graduate writing for The Forward, said "inviting an obvious antagonist of the world's largest Jewish community outside of Israel, an individual who doesn't shirk from using controversial tactics against Israel's supporters, to speak at CUNY is a bewildering act by its leadership sure to inspire only more hate, harassment and confrontations perpetrated against the Jewish student body."
Others have defended Sarsour. A letter signed by five CUNY professors and published on Inside Higher Ed argued that "Taking action because critics object to the content of speech would conflict with the First Amendment and the principles of academic freedom." The same argument, it should be noted, has frequently been deployed by the right to argue against the silencing of conservative speakers on liberal college campuses.
The letter also pointed to a letter of support, written by two rabbis, that was recently published in the New York Daily News: "Linda Sarsour is a friend to the Jews," that article was titled.
Sarsour could not be reached for comment. A representative for CUNY also did not respond, but directed Newsweek to a letter sent to students and faculty by Dean Ayman El-Mohandes of the Graduate School of Public Health and Health Policy in April. Sarsour is described in the note as "a leader who has been successful as a community organizer, recognized by national leaders, and who has emphasized women's health issues in the New York area."
The letter concludes: "I hope you all join me in my firm view that a diversity of viewpoints and an open exchange of ideas is at the heart of our country's strength, and our university's strength. It is why we at CUNY are so committed to academic freedom, a bedrock principle of our university. This will be a very special and meaningful commencement for all of us. I hope to see you all there to celebrate women in leadership."
This article has been updated to more accurately reflect the incident that took place at Dartmouth on May 12, as well as reporting about that incident.