Lindell's Pillow Delivery in Doubt After Media Crew Turned Away at Border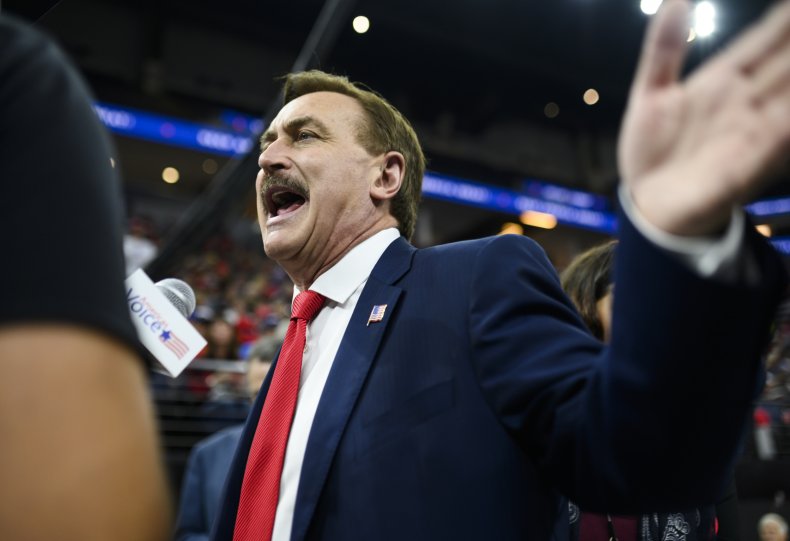 MyPillow CEO Mike Lindell's mission to deliver pillows to the Canadian "Freedom Convoy" could be in doubt after an unvaccinated conservative media crew covering the delivery was blocked from entering Canada.
Canadian immigration officials forced a vehicle from the conservative Right Side Broadcasting Network (RSBN) to turn away from the border on Tuesday because a correspondent and crew members inside the vehicle were not vaccinated.
Soon after, Lindell told Newsweek that he expects his MyPillow delivery truck to face no problems crossing into Canada on Wednesday morning despite the crew also being "definitely" unvaccinated.
"They'll be getting across tomorrow morning, I don't see any problem that they're gonna have," Lindell said on Tuesday evening. "They've got all the right credentials and everything. They're definitely not vaccinated."
"We'll see what happens," he added. "They do require another permit that we've had to get. So, they expedited that on the Canadian side, they expedited that permit so I believe we'll have that tonight and we'll see what happens in the morning."
Lindell said that a MyPillow trucker told him that Canadian officials were processing the additional permit because "they were real enthusiastic that it was MyPillow" when the request was made.
Although MyPillow owns a Canadian factory not far from the protest site in Ottawa, Lindell said that the factory does not have the ability to provide the thousands of pillows that he hopes to deliver to the protesters due to him being "canceled" in Canada.
"We don't have that quantity of raw materials and pillows because they canceled me in Canada, too," said Lindell. "The shopping channel up there and the box stores canceled me in Canada last year, too, during their big cancel culture push on MyPillow. So that's why we're having to bring them clear from Minnesota."
Lindell pointed out that some Canadian provinces including Ontario, which contains Ottawa, have been lifting COVID-19 vaccine mandates. However, the lifting of local mandates and restrictions should not have any effect on international border crossings.
Canada is still requiring all foreigners, including truckers, to be vaccinated before entering the country. The country did previously exempt truckers from the requirement but the new restriction was added this year, prompting the initial Freedom Convoy protest.
During a broadcast earlier on Tuesday, RSBN correspondent Brian Glenn recounted being detained and turned away due to the vaccine requirement while attempting to cross the border to "get in position" and "capture the [MyPillow] truck coming across the bridge."
"Upon entry to Canada, we were asked several questions," said Glenn. "The last question they ask you is, 'are you vaccinated' or 'do you have a negative PCR molecular test?' And of course, I'm not vaccinated, nor do I have a test. So we were then placed into a situation where we had to be 'detained.'"
"It was just sit there and wait ... and then we [were given] the 'allowed to leave Canada form,'" he continued. "For those who think that you can go into Canada without a vaccine passport or without a negative PCR test, well, those restrictions have not been lifted ... mandates are still in place, vaccine requirements are still in place."