Lindsay Lohan Says She Has 'No Feeling, No Emotion' Over Donald Trump's Past Claim That She's 'Great in Bed'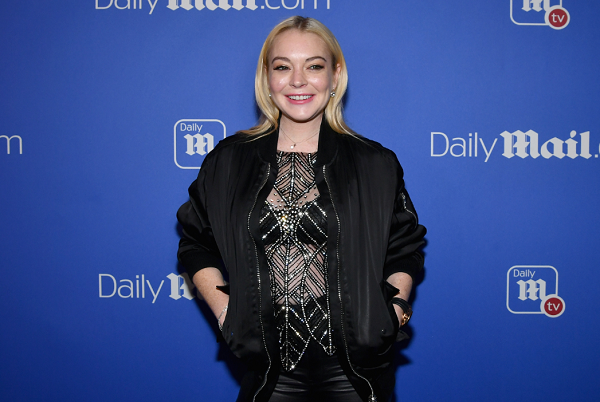 Lindsay Lohan's past "is gone, it's dead," according to the formerly troubled Hollywood starlet. And buried with her past are a few raunchy comments President Donald Trump once made about her during one of his many infamous Howard Stern interviews.
Relishing in the newness of her private, stable, no-paparazzi-allowed life in Dubai, the 32-year-old briefly recalled the 45th president's suggestion—that she was likely good in bed because of her long history of bad behavior—while speaking with the New York Times in an interview released Tuesday.
"Here's the thing: Very simple with politics," she said, referring to Trump. "He's the president. No matter what anyone says, he's still the president. I have no feeling. I have no emotion."
While she wouldn't say anything further about Trump, she did speak fondly of the president's youngest daughter, Tiffany Trump, whom Lohan called a "really sweet girl."
Back when Donald Trump was just a reality TV star and real estate mogul, he once joined in on a rather crude discussion with Howard Stern about Lohan's freckle-covered chest, and whether or not it made her more sexually attractive. The year was 2004 and Lohan was 18 years old at the time.
Donald Trump wouldn't answer that specific question, but he suggested Lohan's behavior—a history of mugshots, DUIs and rehab stints—likely made her "great in bed."
"She's probably deeply trouble and therefore great in bed," Donald Trump said at the time. "How come the deeply trouble women, you know, deeply, deeply, troubled, they're always the best in bed?"
Despite the vulgarity of his comment, Lohan still supported Donald Trump in the past.
While recognizing Independence Day last year, she advocated for Donald Trump on Twitter, telling followers "to stop bullying [the president] and start trusting him." She also added Donald Trump's family were "kind people."
Lohan also previously offered to help Donald Trump secure new legal aid through Lawyers.com, an online service that connects people to attorneys across the globe. Lohan partnered with the company and serves as a spokesperson.
In light of special counsel Robert Mueller's ongoing investigation on Donald Trump's campaign administration's alleged collusion with Russia officials during the 2016 presidential election, Lohan tweeted: "Hey, @realDonaldTrump heard you need a lawyer… at Lawyer.com we are always here for everyone ;)."