Lindsey Boylan, Ex-Andrew Cuomo Aide, Alleges Governor Forcibly Kissed Her, Sexually Harassed Her
Lindsey Boylan, a former aide to New York Governor Andrew Cuomo, detailed sexual harassment allegations against the state leader in a personal essay published on Medium.com on Wednesday, which described a "pervasive" culture of misconduct within his administration.
Boylan is currently leading a Democratic campaign for Manhattan borough president, after having served in several positions across state government departments, including deputy secretary for economic development and special adviser to the governor. Following her promotion to those two roles in in 2018, Boylan recounted an instance wherein Cuomo allegedly kissed her as she attempted to exit his office after a meeting.
"The Governor's pervasive harassment extended beyond just me. He made unflattering comments about the weight of female colleagues. He ridiculed them about their romantic relationships and significant others. He said the reasons that men get women were 'money and power,'" Boylan wrote.
"I tried to excuse his behavior. I told myself 'it's only words.' But that changed after a one-on-one briefing with the Governor to update him on economic and infrastructure projects," she continued. "We are in his New York City office on Third Avenue. As I got up to leave and walk toward an open door, he stepped in front of me and kissed me on the lips. I was in shock, but I kept walking."
Boylan's essay recounted numerous examples of the governor's alleged inappropriate behavior toward her, as well as other female staff members working at the state Capitol. Following an initial encounter with Cuomo in 2016, Boylan said that she was casually informed of the governor's "crush" on her. Later, he allegedly began addressing her as "Lisa," in reference to rumored past girlfriend Lisa Shields, during interactions where coworkers were present.
"It was degrading," Boylan wrote. She also recalled ongoing physical advances and controlling behavior that allegedly took place around the same time: "I had complained to friends that the Governor would go out of his way to touch me on my lower back, arms and legs. His senior staff began keeping tabs on my whereabouts."
The Medium post included screenshots of an email where one of the governor's senior staff members inquired about whether she would attend an upcoming event, seemingly at Cuomo's request, and a text conversation where her mother advised that she "avoid being alone with him."
Boylan's essay elaborated on allegations that she originally shared in a series of tweets in December.
"Yes, @NYGovCuomo sexually harassed me for years. Many saw it, and watched," one of the tweets read. "I could never anticipate what to expect: would I be grilled on my work (which was very good) or harassed about my looks. Or would it be both in the same conversation This was the way for years."
Cuomo denied the allegations during a press briefing the following day. His office maintained that position in a statement issued after the publication of Boylan's essay.
"As we said before, Ms. Boylan's claims of inappropriate behavior are quite simply false," said press secretary Caitlin Girouard in the statement.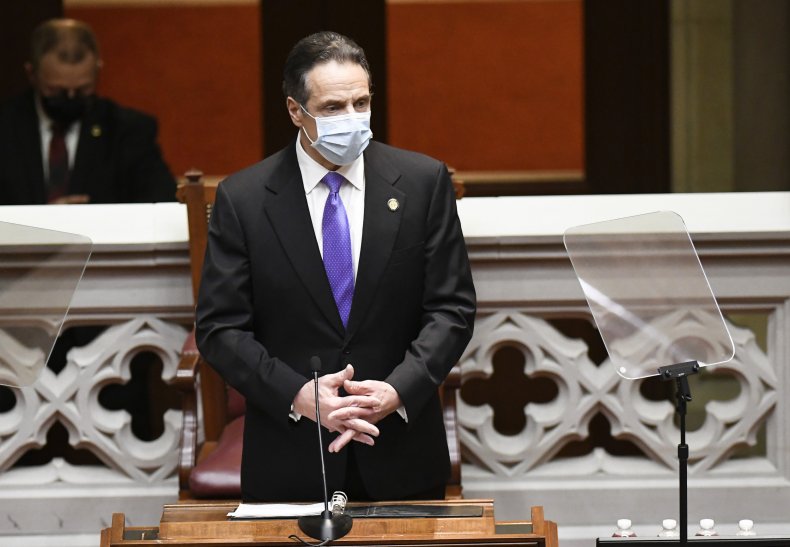 Boylan resigned from her state government positions in September of 2018. On Wednesday, she said that learning of a former female colleague's similar experience with Cuomo's alleged harassment encouraged her to come forward at the end of last year. New York State Assemblymember Ron Kim's recent allegations of abuse and threatening behavior, on the governor's part, prompted Boylan to release the subsequent essay.
"There are many more of us, but most are too afraid to speak up," she wrote. "I'm compelled to tell my story because no woman should feel forced to hide their experiences of workplace intimidation, harassment and humiliation—not by the Governor or anyone else."
Newsweek reached out to Boylan's campaign for comment but did not hear back in time for publication.
This story was updated at 2:46 p.m. ET with additional details and background information.