Speaking to a crowd of demonstrators gathered in New York City's Washington Square Park on Saturday, Lindsey Boylan suggested that New York Governor Andrew Cuomo's prioritized actions to damage her reputation, and conceal the scope of COVID-19 deaths among nursing home residents, over the state's pandemic response.
"In December, I spoke truth to power on the harassment and bullying I faced working for Governor Cuomo," Boylan said in remarks delivered during a rally calling for the governor's impeachment—where she additionally advocated for affordable housing, equitable pay, policies to advance racial justice, and a fairer budget.
"And when the governor should have been focused on leading us out of this pandemic, he was instead focused on covering up the deaths of 15,000 New Yorkers, and smearing me and my reputation," she continued.
Boylan, a former aide to the governor and current Democratic candidate for Manhattan borough president, was the first woman to come forward with allegations of sexual harassment and inappropriate behavior involving Cuomo last December. After initially speaking out on Twitter, Boylan detailed years of alleged inappropriate conduct in a lengthy personal essay published via Medium in February.
Multiple women, including other former and current aides, have publicly accused Cuomo of misconduct since then.
The governor apologized in the wake of their allegations earlier this month, and acknowledged that his behavior "made people feel uncomfortable," NBC News reported. However, Cuomo has also partially denied the inappropriate conduct of which he is accused and refused to resign, despite growing calls for him to do so.
The increasing volume of publicized testimonies by his accusers compounded an already mounting scandal plaguing his administration, after a January report indicated that Cuomo intentionally underrepresented COVID-19 deaths among residents of New York's long-term care facilities.
There are now two ongoing investigations into misconduct allegations against the governor: one, led by New York Attorney General Letitia James' office, and a second, spearheaded by the New York State Assembly. The assembly's decision to open a formal inquiry instead of immediately moving to impeach Cuomo—as a number of public figures and state residents have insisted is necessary—garnered criticism, particularly targeting Speaker Carl Heastie.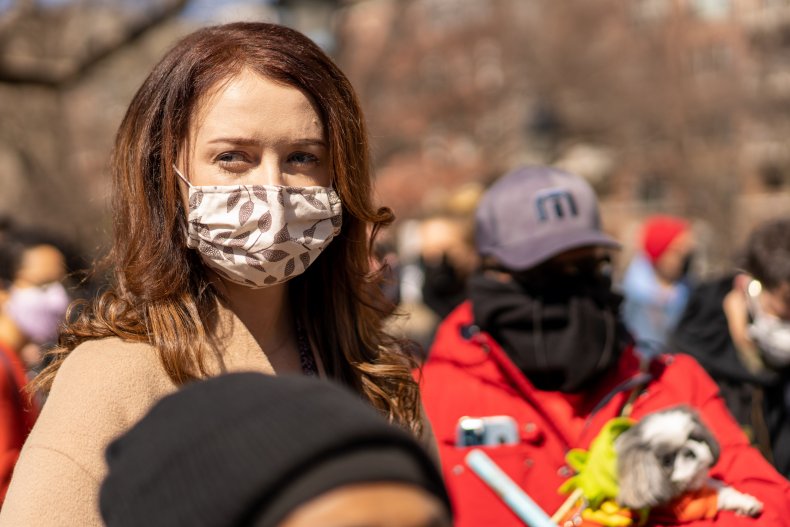 "New Yorkers deserve a transparent and honest impeachment process, not a sham investigation led by people with ties to Governor Cuomo," Boylan said on Saturday, reiterating previous remarks urging state lawmakers to promptly impeach the governor. She accused Heastie of using his influence "to protect the governor and uphold a system that dismisses and abuses us."
"When the governor lies about his abuse of power, as he's doing right now and daily, it's a betrayal of the public's trust," she told the crowd during Saturday's rally. "Abuse does not confine itself to one person or one area. Someone who abuses their power doesn't just do it to one woman or one community. They do it, on some level, to every person in every community."
Newsweek reached out to Cuomo's office for comment, but did not receive a reply in time for publication.