Lindsey Graham Accused of Cutting Off Sally Yates Because She's 'a Woman' During Contentious Hearing
A U.S. senator accused Senator Lindsey Graham of cutting off a former deputy attorney general during a congressional hearing Wednesday because she is "a woman."
"Mr. Chairman, let her answer the question. Just because it's a woman testifying doesn't mean she has to be cut off every answer," Senator Patrick Leahy told Graham after Graham began talking over former Deputy Attorney General Sally Yates.
Yates testified Wednesday in front of the Senate Judiciary Committee, which Graham chairs, as part of its investigation into the origins of the FBI's Russia probe, Crossfire Hurricane, and what eventually led to former special counsel Robert Mueller's investigation. Graham joins fellow Republican Senator Ron Johnson, chairman of the Senate's committee on homeland security, in examining the Obama administration's investigations of Russia.
Yates, who served as attorney general and deputy attorney general under former President Barack Obama, testified before the committee in a more than three-hour-long hearing. She told lawmakers that neither Obama nor former Vice President Joe Biden encouraged an investigation into Michael Flynn, a former national security adviser to the Trump administration.
Flynn resigned in February 2017 after reportedly misleading Vice President Mike Pence about the nature of Flynn's communication with Sergey Kislyak, a former Russian ambassador to the U.S.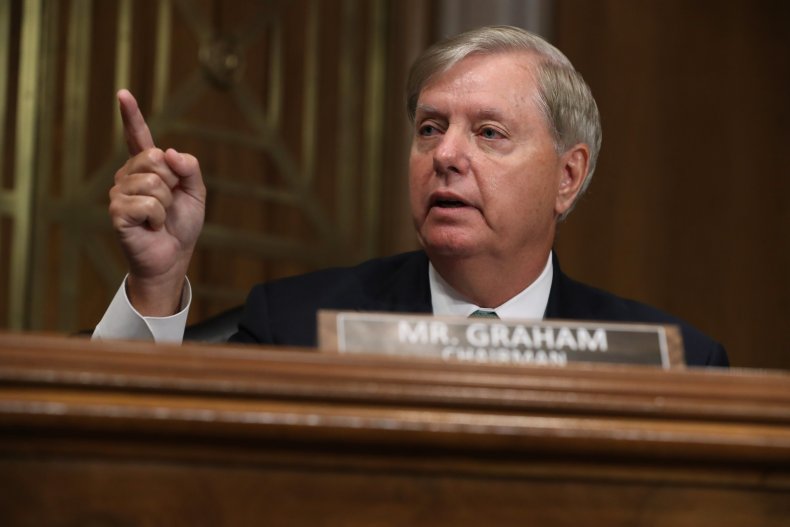 Wednesday's contentious hearing with Yates centered at one point on a January 2017 meeting and whether participants, including Yates, had mentioned the Logan Act, a federal law that makes it a criminal act for Americans to have unauthorized conversations with foreign powers.
"I have a vague memory of [former FBI Director James Comey] mentioning the Logan Act, but I'm not sure—" Yates said, as Graham cut her off, pressing her for context.
"Well that's—I'm not sure if he mentioned that in the Oval Office meeting or in the meeting that he and I—" Yates responded, as Graham cut her off again, prompting Leahy to accuse Graham of interrupting her because she's "a woman testifying."
"Yeah, thanks a lot Senator Leahy," Graham told the Vermont Democrat. "I really appreciate that, you're very constructive. So here's my question: Was the Logan Act mentioned in the meeting?"
A spokesman for Graham declined to give further comment. Newsweek contacted Leahy's office for comment, but did not hear back in time for publication.
Yates and Graham went back and forth on the subject for several more minutes, with Graham interrupting her multiple times in a nearly five-minute clip posted on YouTube. In some instances, Yates, who participated in the hearing via video call, could not be understood clearly because her audio became garbled.
At one point, Graham questioned Yates over a January 24, 2017, interview with Flynn and two FBI agents, asking if Yates felt there was a "legitimate basis" for the interview and what that might have been.
"Well at the time, Senator Graham, we were in a situation where we had evidence that the Russians were attempting to influence the election to—" Yates began, as Graham cut her off, telling her "the election was over." Yates asked the senator to give her "just a second here" so she could provide her response.
"No, no. Here's what we're going to do," Graham told her. "I'm going to ask questions and you're going to give me answers," asking her once more to provide the basis for the January 24 interview.
Despite the tense questioning, Graham said Yates exercised "good caution in legal judgment in January 2017," The Washington Times reported.
Moments after the hearing began, however, President Donald Trump tweeted Yates has "zero credibility."
Newsweek contacted Yates for comment, but did not hear back in time for publication.