Lindsey Graham Admits GOP Is 'Screwed' if Kelly Loeffler, David Perdue Don't Win Ga. Runoffs
South Carolina Senator Lindsey Graham acknowledged potential legislative challenges ahead for Republicans if their party's candidates lose the upcoming runoff elections in Georgia next month. Addressing the significance of January's runoffs during a Wednesday appearance on The Mike Gallagher Show, a conservative radio series, Graham said the GOP is "screwed" if incumbent Georgia Senators Kelly Loeffler and David Perdue lose their respective re-election bids.
The Republican congressional representatives are currently campaigning against Democrats Raphael Warnock and Jon Ossoff in a unique pair of simultaneous runoff contests, which take place in Georgia when no single candidate earns a plurality of votes during general elections. How each race unfolds is consequential for residents of Georgia and the U.S. at large, since their outcomes will determine whether Democrats gain control of the Senate or Republicans maintain a majority.
"If Loeffler and Perdue lose in Georgia, we're screwed," Graham told Mike Gallagher during his Wednesday conversation with the radio host. Continuing, the Republican congressman suggested that "conservatism is in a world of hurt" and called for the incumbent candidates' victories in order "to stop the most radical agenda coming through the Senate out of the House in the history of the country."
"It is imperative that they win," the senator said. "We've got to fight for Trump. If you want Kelly Loeffler and Perdue to win, as a Republican, you need to fight for Trump in Georgia."
Newsweek reached out to Graham's office for further comment but did not receive a reply in time for publication.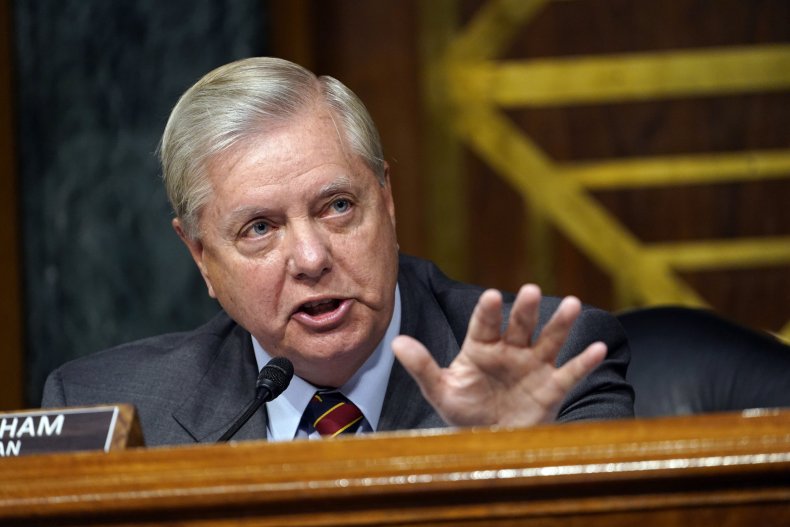 As Donald Trump's legal team continues to pursue lawsuits aiming to discredit results of November's election, the sitting president has aligned his efforts with Loeffler and Perdue's senatorial campaigns. Trump claims his loss to President-elect Joe Biden among Georgia voters was the result of Democratic schemes, fraud and misconduct, despite an absence of evidence indicating that any of those accusations are true.
Amid tense standoffs with Georgia's Republican officials, primarily Governor Brian Kemp and Secretary of State Brad Raffensperger, over ballot auditing procedures, Trump now insists Loeffler and Perdue's election performances will be affected by the same processes he says affected the presidential race.
"RINOS @BrianKempGA, @GeoffDuncanGA, & Secretary of State Brad Raffensperger, will be solely responsible for the potential loss of our two GREAT Senators from Georgia, @sendavidperdue & @KLoeffler," Trump tweeted on Monday, after requesting that Kemp order the state legislature to convene for a Special Session and push for another audit that includes signature matching reviews.
Trump had previously asked Kemp to "overrule" Raffensperger's authority in election decisions, which the governor is prohibited from doing under Georgia law, after the secretary of state confirmed that repeated signature verifications would not take place during the latest ballot recount. Because absentee ballots are separated from envelopes after they are initially verified, another round of signature matching would not yield additional information about voters' candidate selections, anyway.
Graham, a vocal Trump supporter, is one of several prominent Republicans who back his unsubstantiated claims that last month's election loss was illegitimate.
"Senator Graham has repeatedly expressed concerns about the mail-in voting procedures in Georgia as it relates to signature matching," said Kevin Bishop, a spokesperson from Graham's office, in comments to Newsweek on Thursday.
Kemp and Raffensperger have denied Trump's voter fraud allegations publicly, as have numerous other state officials, jurists and political figures across the country. Most of the Trump campaign's lawsuits seeking to challenge election outcomes, including a handful filed in Georgia, faced prompt dismissals in court.