Lindsey Graham Agrees He's 'Cheap' After Gowdy Jokingly Complains About Christmas Gift
Senator Lindsey Graham (R-S.C.) admitted he was "cheap" after Fox News contributor Trey Gowdy jokingly said that "the box was more expensive" than a Christmas present he had been sent by the senator.
Graham agreed that he was frugal during a Monday night appearance on Fox News' Hannity, with Gowdy, a former GOP congressman from South Carolina, filling in as host. Graham warned that if Democrats took control of the Senate by winning both of two upcoming Georgia runoff elections, it would be a "nightmare for conservatism" because, in part, Senator Bernie Sanders (I-Vt.) would become chairman of the Senate Budget Committee instead of him.
"Having done a Christmas gift exchange with you, I can promise you, you are more fiscally conservative than anybody else I know," Gowdy joked while comparing Graham to Sanders. "The box was more expensive than the present I got."
"Yeah, I border being cheap," Graham agreed.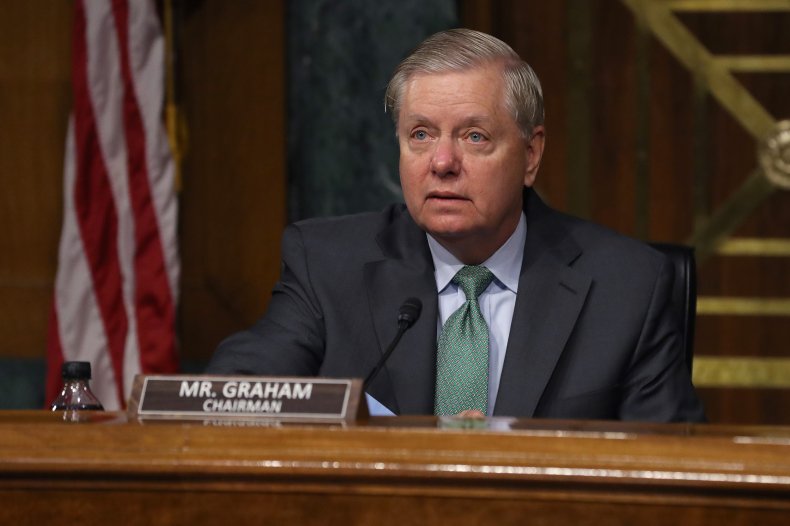 Graham insisted that the U.S. being "turned into a socialist nation" was "on the ballot" in the runoff elections while urging Republicans to donate to the campaigns of incumbent GOP Sens. Kelly Loeffler and David Perdue, who are set to face off against Democratic challengers Raphael Warnock and Jon Ossoff on January 5.
After being asked what was at stake depending on which party controls the Senate, Graham said that Democrats would "change the Electoral College" and "go to the popular vote" in presidential elections, although such a move would require an amendment to the Constitution.
Graham used the example of "avowed socialist" Sanders leading the budget committee as part of the "nightmare" scenario that he claimed would spark an improbable transformation of the country.
"Let me give you a good example, I hope I don't ruin your Thanksgiving," Graham said. "If Democrats take over the Senate and we lose both Georgia seats, Bernie Sanders will be chairman of the budget committee in the Senate. An avowed socialist would be writing the nation's budget in the Senate. If we keep control of the Senate by winning both seats in Georgia, I'm going to be the budget chairman."
"You know what, I may not be your cup of tea out there, but let me tell you this, I'm a hell of a lot better than Bernie Sanders when it comes to your money," he added.
The discussion largely took place under the assumption that President-elect Joe Biden would take office on January 20, making it possible for Democrats to control the Senate with a 50-50 split of the chamber by winning both runoffs. Graham has repeatedly boosted evidence-free claims from Trump that he, not Biden, was the true winner of the election due to unsubstantiated voter fraud.
However, Graham did urge Trump to "keep fighting" at the end of the interview, which came hours after the president tweeted that he had recommended the General Services Administration issue its letter "ascertaining" that Biden was declared the "apparent president-elect," officially beginning the transition process between outgoing and incoming administrations.
Newsweek reached out to Graham's office for comment.