Lindsey Graham: All You Need to Know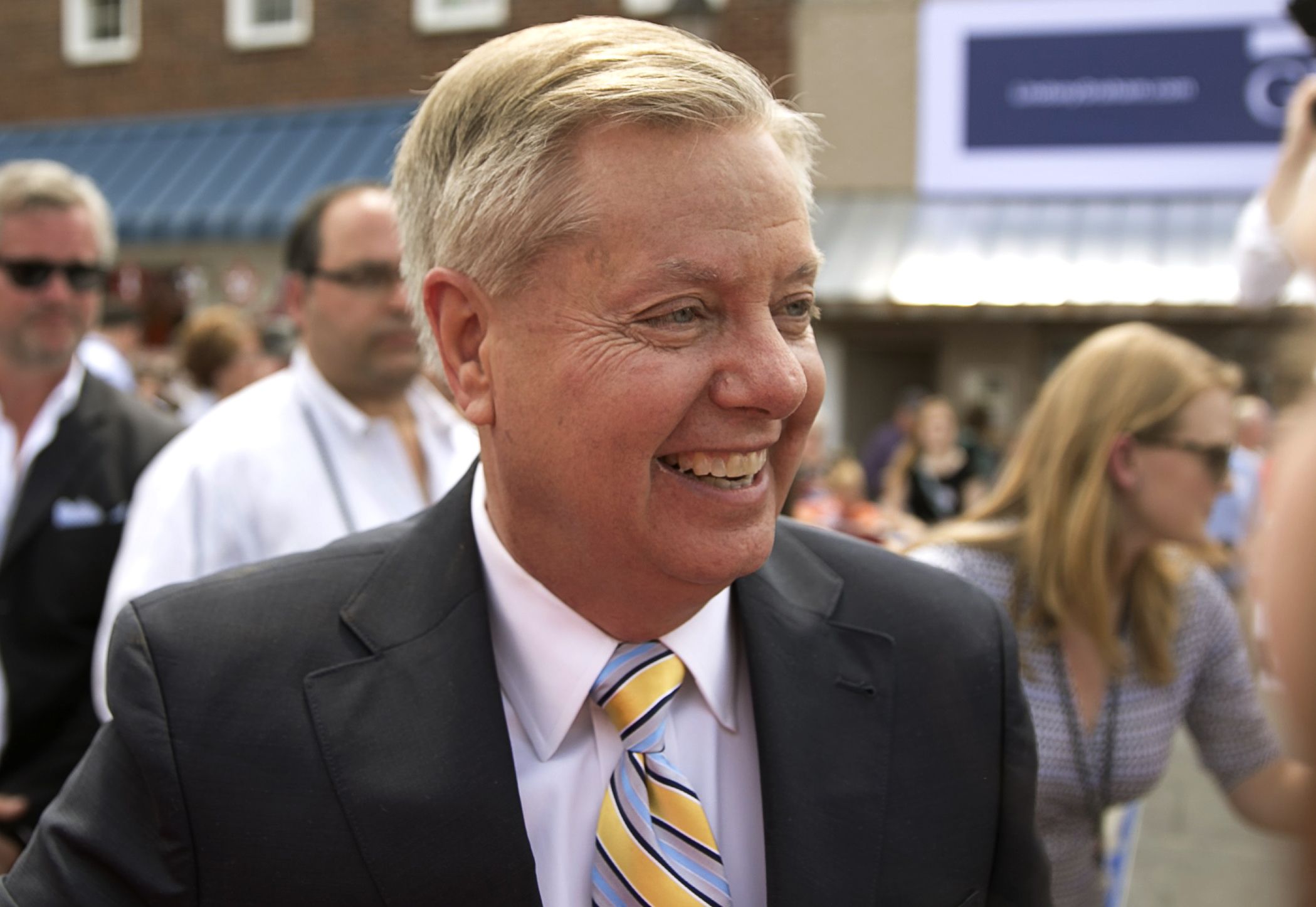 Can you win the presidency by running on foreign policy? Lindsey Graham is seeking to find out.
The South Carolina senator announced on June 1 that he is running for the GOP presidential nomination. His stated his reason for joining the race: "I want to be president to protect our nation that we all love so much from all threats foreign and domestic."
Graham is the ninth candidate to join the GOP race. He won't be the last. If Graham wins, he'll be the first bachelor president since Grover Cleveland.
Name: Lindsey Graham
Date of Birth: July 9, 1955
Place of Birth: Central, South Carolina
Religion: Southern Baptist
Political Party: Republican Party
Marital Status: Single
Children: none
Alma Mater: University of South Carolina (BA and JD)
Political Career: U.S. Senator from South Carolina (2002-present); U.S. Representative for South Carolina's Third District (1995-2003); South Carolina House of Representatives (1993-1995); South Carolina Air National Guard (1989-1995); Lawyer, U.S. Air Force (1983-1989)
Twitter Handle: @LindseyGrahamSC
Campaign Announcement
Graham kicked off his campaign in his hometown of Central, South Carolina, which has roughly 3,000 permanent residents. His main concern was foreign policy. He was 14 minutes into his 21 minute speech before he mentioned a domestic issue: Social Security.
Riffing on Ronald Reagan's policy of "peace through strength," Graham promised as president to deliver a policy of "Security Through Strength." His primary concern is radical Islam. It, not a rising China or an aggressive Russia, was the first topic he turned to:
Simply put, radical Islam is running wild.
Graham defines the term "radical Islam" far more broadly than most people do. He doesn't have in mind just al Qaeda or the Islamic State. He also has in mind Iran:
The world is exploding in terror and violence but the biggest threat of all is the nuclear ambitions of the radical Islamists who control Iran.
Graham doesn't think that anyone in the 2016 presidential race can match his foreign policy expertise—and that includes a certain former secretary of state. He told the crowd in Central:
I have more experience with our national security than any other candidate—that includes you, Hillary.
Whether GOP primary voters are judging their candidates primarily in terms of their foreign policy expertise remains to be seen.
Graham's Foreign Policy
National security will be the cornerstone of Graham's campaign:
I looked at what I have to offer and said, 'Okay, there's going to be a lane available on national security.'
Graham is the only candidate in the Republican or Democratic field with military experience. (If Rick Perry joins the race on June 4 as expected, that will change). Graham joined the Air Force after law school, serving six years on active duty doing legal work. He then joined the South Carolina Air National Guard. He has served in the reserves as a lawyer and judge advocate throughout his career in the Senate, eventually rising to the rank of colonel. He left the reserves this week.
With his military experience and his years on the Senate Armed Services committee, Graham thinks he is the GOP candidate with the most to say on foreign policy. In February, he declared:
I believe I'm the best qualified of anybody on our side of the aisle to offer an alternative to a failed foreign policy of Barack Obama.
Graham has great confidence in what American leadership and power can accomplish overseas. He is closely aligned with former GOP presidential nominee, Senator John McCain. The two often travel abroad together. Afghanistan and Iraq have been favorite stops. McCain has served as something of a mentor to Graham. McCain has even gone so far as to refer to Graham as his "illegitimate son."
Not surprisingly, Graham has had few kind words for President Obama's handling of foreign policy. Back in March, Graham spoke at the Council on Foreign Relations specifically to express his concerns about the administration's negotiations with Iran. He says he doesn't oppose negotiations in principle. He just wants a good deal:
Some fear that we would say no to anything Obama did. I promise you this, there are people in my party who would do that. I'm not one of them, because a good deal would be a Godsend.
Graham laid out the conditions he thinks the deal needs to meet. As he put it in an op-ed last month:
The president must either negotiate an agreement that will permanently prevent an untrustworthy Iranian regime from acquiring nuclear weapons—or walk away. If he instead commits to a plan that will lead to a nuclear Iran, Congress must stop it.
Graham, like every candidate in the race, prides himself on being a staunch supporter of Israel. He has proposed limiting UN funding if it lifts sanctions on Iran or if it "marginalizes" Israel.
Graham thinks Obama's failure to act in Syria and against the Islamic State is endangering Americans. He said last month:
President Obama's foreign policy has failed on multiple fronts. It is only a matter of time now, I believe, unless we change our policies, [until] we'll have a big attack in this country directly related to Syria.
Graham says that defeating the Islamic State requires a strategy for dealing with instability in both Iraq and Syria:
We're going to have a military strategy to defeat, degrade, and destroy ISIL [ISIS] that won't work, but it will destroy Iraq…Because you're destroying the ability to put Iraq back together again. I mean, to degrade and destroy ISIL, do you agree you've eventually got to deal with Syria? Does that make sense? And Iraq alone, the engagement will not degrade and destroy ISIL.
He estimated back in February that ten thousand American combat troops will be needed to defeat the Islamic State and that the United States will also have to oust Bashar Assad:
We cannot successfully defeat ISIL on the ground in Syria with the Free Syrian Army and regional coalitions of Arab nations until you deal with Assad because he will kill anybody that comes in there that tries to defeat ISIL.
To those who say Americans have grown tired of fighting in Afghanistan and Iraq and want to put the Middle East behind them, Graham has a simple retort:
I have bad news to share with you: The radical Islamists are not tired of fighting you.
Graham favors more aggressive action to punish Russia for its aggression against Ukraine and to support the government in Kiev. In February, he and Senator McCain issued a joint statement:
Western leaders say there is no military solution to the conflict in Ukraine. Vladimir Putin clearly does not think so. He continues his aggression, and in the absence of greater Western support for Ukrainian forces, a Russian-imposed military solution is exactly what will continue to unfold in Ukraine, just as it has in parts of Georgia and Moldova.

With more than 5,000 Ukrainians killed and many more wounded, it is long past time to provide defensive weapons to Ukraine and to impose additional sanctions and costs that can change Putin's behavior, including the removal of Russia from the SWIFT financial system. President Obama should do so immediately, rather than hide behind a failed attempt to negotiate with an aggressor when conditions on the ground render diplomacy ineffective.
Graham stands apart from his Republican colleagues on several issues. One is immigration. He is the only GOP candidate so far who explicitly supports a path to citizenship for undocumented immigrants. He told USA Today:
If I were president of the United States, I would veto any bill that did not have a pathway to citizenship.
Many other Republicans disagree with Graham on immigration, and he has received plenty of criticism for his stance. Tea Partiers have dubbed his support for a path to citizenship "Grahamnesty."
Graham believes that climate change is real and the government needs to do something about it. Five years ago he crossed the political aisle to work with Democratic senators John Kerry and Joseph Lieberman to write a major climate change bill. The effort fell apart, and the collaboration deeply angered some of Graham's fellow Republicans.
Graham has no intention of obeying Ronald Reagan's Eleventh Commandment when it comes to fellow candidate Rand Paul. The two men see foreign policy very differently. Graham says that Paul wouldn't do enough to confront the threat facing the United States:
He is one step behind leading-from-behind… I think he'd be the worst possible person to send into the ring when it came to foreign policy.
Paul thinks that Graham would do too much. He says that Graham and McCain are "lapdogs" for President Obama's foreign policy. So expect fireworks if the two senators end up sharing a debate stage.
More on Graham
The New York Times profiled Graham back in 2010. USA Today interviewed Graham about his foreign policy in May. Graham visited CFR to discuss foreign policy back in 2011. The Atlantic explains "how Lindsey Graham stomped the Tea Party." Graham's Senate website lists op-eds the senator has written. The New York Times has "Lindsey Graham on the Issues." NPR has "5 Things You Should Know About Lindsey Graham."
James M. Lindsay is senior vice president, director of studies and the Maurice R. Greenberg chair at the Council on Foreign Relations. This article first appeared on the Council on Foreign Relations site.
In the same series, by the same author, Ted Cruz: All You Need to Know, Rand Paul: All You Need to Know, Marco Rubio: All You Need to Know, Carly Fiorina: All You Need to Know, Ben Carson: All You Need to Know, Mike Huckabee: All You Need to Know, Martin O'Malley: All You Need to Know and Hillary Clinton: All You Need to Know.
Rachael Kauss assisted in the preparation of this post.