'Help Me': Lindsey Graham Uses Amy Coney Barrett Confirmation to Lift Faltering Election Campaign
Senator Lindsey Graham (R-SC) welcomed Amy Coney Barrett's Supreme Court confirmation, touting his role in the process to encourage South Carolina voters to help him retain the seat.
Graham, chairman of the Senate Committee on the Judiciary, faces a close contest for his spot in Congress. Polls are tight and a recent forecast showed Graham losing ground in his race against Democratic challenger Jaime Harrison.
He has previously used television appearances to boost fundraising efforts as he trails Harrison on campaign cash. Graham took the latest opportunity to promote his campaign when discussing Barrett's confirmation with Fox News host Sean Hannity.
"She gave the most articulate statement of what a conservative justice is all about," he said. "Liberals have the absolute opposite view, they think judges should accomplish policy preferences that fail at the ballot box. It's a great night for conservatism."
The Republican described his involvement in the process as the "highlight" of his time in the Senate, saying he "hadn't slept in two weeks" for fear that there might be issues with getting her on the court and another potential "Kavanaugh moment."
Graham spoke of this relief before encouraging voters to support him: "The highlight of my time in the Senate is to shepherd her through the Senate and help Mitch McConnell and the president get her confirmed.
"This is why I do what I do. To my Senate Judiciary Republicans, thank you. I've been living in fear and it is now over. She is on the court. Mission accomplished. The left is going nuts tonight. We are in a fight for our life. Help me. Help all of us keep our seats."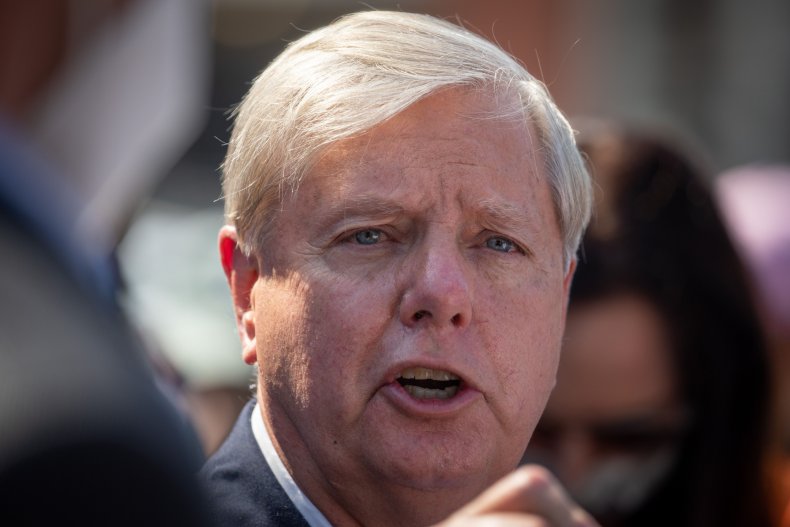 He went on to read out the domain of his campaign website.
As well as these comments, he has also tweeted to welcome the confirmation: "We did it! Justice Barrett is now a reality," he wrote, alongside a photograph of himself with Barrett.
"A great day for conservative women and the American people! A constitutional conservative on the Supreme Court who understands the difference between being a judge and a politician."
His comments on "conservative women" come with two recent polls showing him narrowly behind Harrison with female voters in the state.
A CBS News/YouGov poll of 1,061 voters between September 22 and 25 put Graham on 45 percent of support overall and his rival Harrison on 44 percent. The poll's margin of error is plus or minus 3.8 percent.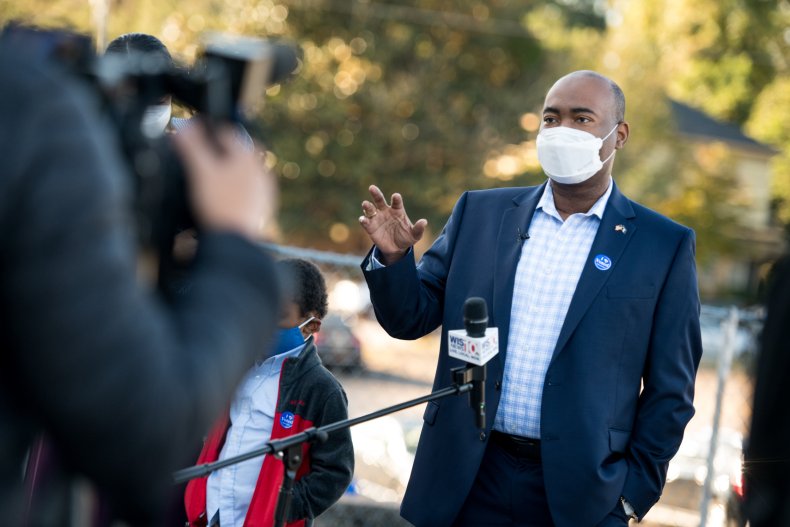 But among women, Harrison received 47 percent of the support compared to 39 percent for Graham.
A Quinnipiac University poll similarly put the pair tight overall, tied at 48 percent each, but gave Harrison a lead with women at 53 percent to 43 percent. The polling was conducted September 23 to 27 among 1,123 likely South Carolina voters.
However, recent Siena College/The New York Times polling gave Graham a six-point lead at 46 percent against 40 percent for Harrison.
The polling, conducted October 9 to 14 among 605 likely voters in South Carolina, had a margin of error of plus or minus 4.5 percent.
This showed Graham ahead with both male and female voters. With female voters, the split was 44 percent to Graham and 41 percent Harrison.
Graham's call for support comes after he bemoaned the level of funding his rival Harrison has pulled in for the race.
"They're trying to take me out," he said previously. "Every liberal in the country is sending money to South Carolina."
His campaign has accused Harrison trying to "buy a Senate seat."
Harrison raised $57 million in the third quarter and spent $60 million in that period. His campaign also announced they raised "over $2 million" in 48 hours during one push.
Graham has trailed though also brought in large sums, raising $28 million in the same period.
This was the most raised by a Republican Senate candidate in such a time period. Graham's campaign has since claimed it had taken in $1 million each day throughout the first half of October.
Newsweek has contacted Graham for comment.