Lindsey Graham Announces Contest Where Winner Gets to Golf With Trump and Him
Republican South Carolina Senator Lindsey Graham has announced a contest where the winner will get to golf with him and former Republican President Donald Trump on May 2.
Graham promoted the competition while speaking on the Tuesday night Hannity on Fox, hosted by Sean Hannity.
People who make a donation at Graham's official website will be entered into a draw to play golf with Graham and Trump during the Trump Graham Golf Classic tournament. The tournament will take place at the Trump International Golf Club in West Palm Beach, Florida.
"You have lunch. You have breakfast with President Trump. You get a photo. You play at his golf course in Florida. It's going to be a lot of fun," Graham told Hannity.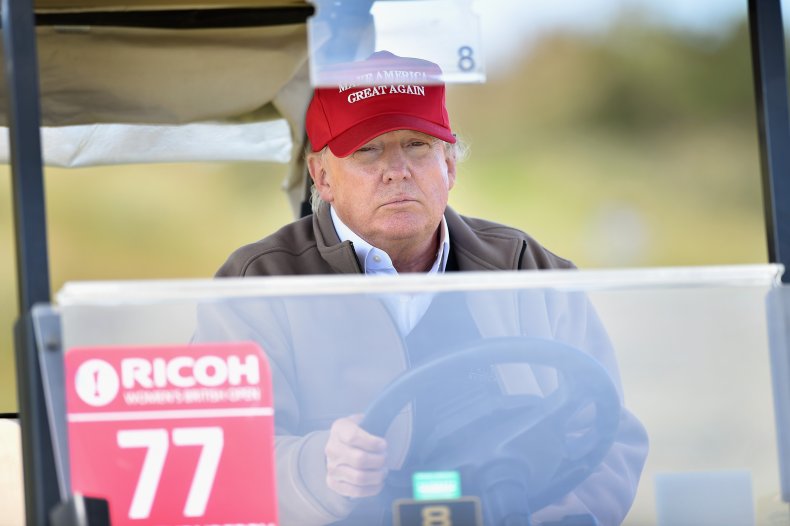 "If you don't win, the money is going to be used to take back the House and the Senate, so we can stop this slide to socialism," Graham added, equating the Democratic political agenda to socialism.
Socialism is a political theory that believes the economy and society should be run democratically to meet public needs rather than make profits for a few, according to the Democratic Socialists of America.
Graham laughed as he told Hannity that Trump is a superior golfer. "He's better than I am," Graham said. "He's gonna kick me around."
The Trump Graham Golf Classic tournament is a fundraiser for a few Republican political action committees and the National Republican Senatorial Committee, the campaign arm of the GOP Senate. Each individual entry into the tournament costs participants $25,000.
Before he became president, Graham had called Trump a "kook" who was unfit for office. After becoming president, Graham began golfing with Trump and became one of his most vocal defenders. He has said that the Republican party cannot achieve its national political goals without Trump's leadership.
"I think you're going to see, over the next couple of months, Donald Trump lead the Republican Party on policy and gives us the energy we need to take back the House and the Senate," Graham told Hannity in February. "The Democrats are doing their part. If we could get behind President Trump and follow his lead, we will win in 2022. If we argue with ourselves, we're going to lose. And there's no reason to lose."
In October 2017, the two men golfed during the Columbus Day holiday at Trump National Golf Club, the president's private course in Northern Virginia, according to The Washington Post. Graham also spent Christmas 2020 golfing with Trump at the Trump International Golf Club, according to WCBD.
Newsweek contacted Graham's office for comment.