Lindsey Graham Backs Biden Remarks About Capitol Violence: 'Stop the Madness'
Senator Lindsey Graham, a Republican ally of President Donald Trump, publicly backed President-elect Joe Biden's remarks about the ongoing violence caused by Trump supporters at the U.S. Capitol.
Hundreds of the president's supporters marched on the nation's Capitol on Wednesday, with many getting past barricades and police to occupy the building. Lawmakers were evacuated, as they had convened to formally count the electoral votes to certify President-elect Joe Biden's win over Trump.
In a Wednesday afternoon message, Biden condemned the actions of the Trump supporters.
"At this hour, our democracy is under unprecedented assault, unlike anything we've seen in modern times," the president-elect said in a speech from Wilmington, Delaware. "Let me be very clear: the scenes of chaos at the Capitol do not reflect the true America, do not represent who we are."
"I'm genuinely shocked and saddened that our nation, so long a beacon of hope and light for democracy, has come to such a dark moment," Biden added. "America's about honor, decency, respect, tolerance. That's who we are. That's who we've always been."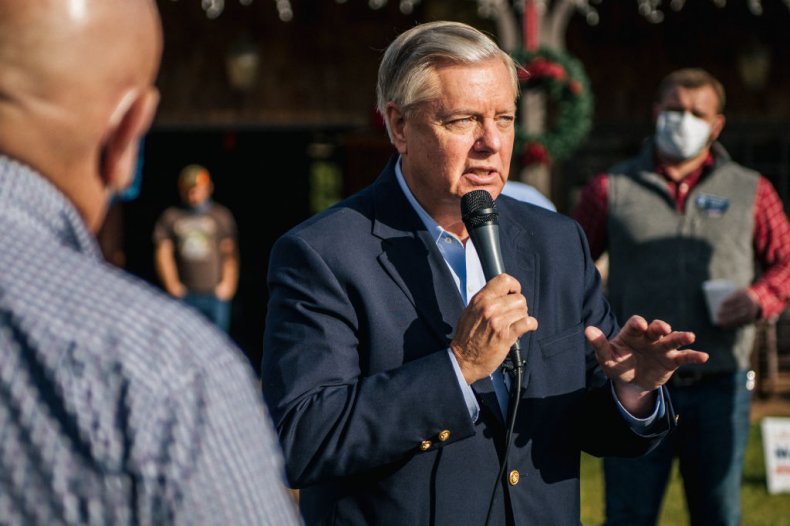 Graham later tweeted his agreement with Biden's remarks.
"I could not agree more with President-elect Biden's statement to the nation. Time to retake the Capitol, end the violence, & stop the madness. Time to move forward in governing our nation," the South Carolina Republican tweeted. "Our differences are real but the love of our nation overwhelms our differences."
Newsweek reached out to Graham's staff to ask if he believed that Trump deserved at least some responsibility for the violent actions of his supporters. Graham's communications director, Kevin Bishop, referred Newsweek to a previous tweet in which the senator said: "Those who made this attack on our government need to be identified and prosecuted to the fullest extent of the law. Their actions are repugnant to democracy."
Some Democratic lawmakers are calling for the president to be immediately impeached and removed. Representative Ilhan Omar, a Minnesota Democrat, tweeted that she is in the process of drawing up articles of impeachment.
"We can't allow him to remain in office, it's a matter of preserving our Republic and we need to fulfill our oath," she tweeted.
Trump had urged his supporters to come to Washington, D.C. for "wild" protests on Wednesday as the electoral votes were to be counted in Congress. The president and his supporters have pushed unfounded claims of widespread voter fraud, saying this is what led to Biden's victory. There is no evidence to back this extraordinary allegation.
Former U.S. Attorney General William Barr, who left office in December, has said there is "no evidence" to back the claims. Trump and his supporters have filed more than 50 failed lawsuits in state and federal courts. Judges, including some appointed by Trump and other Republicans, have said in their rulings that lawyers did not provide evidence to support their allegations.
Minutes after Biden's live remarks, Trump released a video in which he continued to push baseless conspiracy theories about the election. However, he also urged his supporters to leave the Capitol and be peaceful. He told the rioters that they were "very special" and that he loved them.