Lindsey Graham Backs Tim Scott After Don Lemon Criticism Over 'Woke Supremacy'
Senator Lindsey Graham (R-SC) tweeted his support for Senator Tim Scott (R-SC) on Saturday, after the latter faced backlash from CNN host Don Lemon for saying that "woke supremacy" is as bad as "white supremacy."
"The conservative movement is so lucky to have my good friend and colleague Senator Tim Scott as one of our leaders," Graham tweeted. "Tim is one of the strongest voices in America for conservative solutions to help disadvantaged neighborhoods and people."
Graham's statement came after Scott and Lemon, who are both Black, sparred earlier this week over race.
Speaking on Fox News Monday, Scott railed against what he calls "woke supremacy," after MSNBC host Joy Reid suggested that, as the only Black GOP lawmaker in the Senate, Republicans use him as a "prop."
"Woke supremacy is as bad as white supremacy. We need to take that seriously," Scott said, before urging people to read Bible verse Matthew 5:44, which teaches about loving one's enemies.
In response to that statement, Lemon slammed Scott in a monologue on CNN Wednesday night.
"I've never seen a woke supremacist lynching anybody," Lemon said. "I never saw a woke supremacist denying anybody access to housing or job or education or voting rights."
Becoming more impassioned by Scott's claim, Lemon added: "Come on Tim Scott! I didn't see woke supremacists storming the Capitol."
"Where were the woke supremacists attacking police, where were the woke supremacists hunting police officers in the halls of the Capitol and beating them with Blue Lives Matter signs with white supremacists insignia on their shirts?"
Lemon then went on the claim that Scott was "gaslighting people" with his remarks. "I know you don't want me to yell, but this is ridiculous! You are gaslighting people. You are giving people misinformation. What are you doing, brother? What are you doing?," he exclaimed.
Then, in response to Lemon's comments, Scott said that people are at their "wit's end" over Black conservatives speaking their mind.
"Don Lemon can say whatever Don Lemon wants to say. Until he has taken a serious look at what's happening on his side of the aisle and come out strong against that, we're going to continue to have a conversation in America that keeps us divided and not building a bridge so that we can live in this nation together," Scott told Fox News.
On Saturday, Graham also shared a video that Scott made in which he accused the left of being "intolerant."
"What happened to the party of 'inclusion and diversity' when it comes to conservatives who happen to be Black or Hispanic who want to speak the truth?" Scott asked.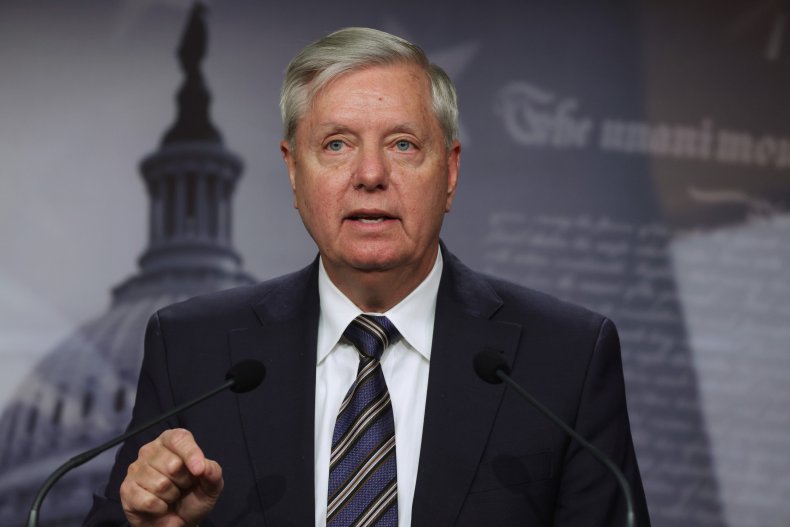 On Saturday, Graham added on Twitter: "I hope conservatives throughout the nation appreciate my friend Tim Scott. He is truly a fighter for the conservative cause. We have your back!"
Newsweek contacted representatives for Scott and Lemon, but did not hear back in time for publication. A representative for Graham did not provide an additional comment beyond his tweet.