Lindsey Graham Begs Trump Legal Team to 'Prove' Their Claims As Lawsuits Fail in Court
In a Wednesday evening interview, South Carolina Republican Senator Lindsey Graham said that President Donald Trump's legal team representing Trump's re-election campaign needs to prove its allegations of widespread voter fraud in court rather than in videos intended for the public.
"To the Trump legal team: You're making all these claims. You got to prove it," Graham told Fox News interviewer Martha MacCallum.
"Doing a video is not proof," Graham continued. "You need to take these claims in to a court of law and get relief."
Graham's comment about "doing a video" is a possible reference to several recent press conferences held by Trump's legal team or the 46-minute video released by Trump on Wednesday in which Trump repeated voter fraud claims for which the legal team has yet to provide evidence.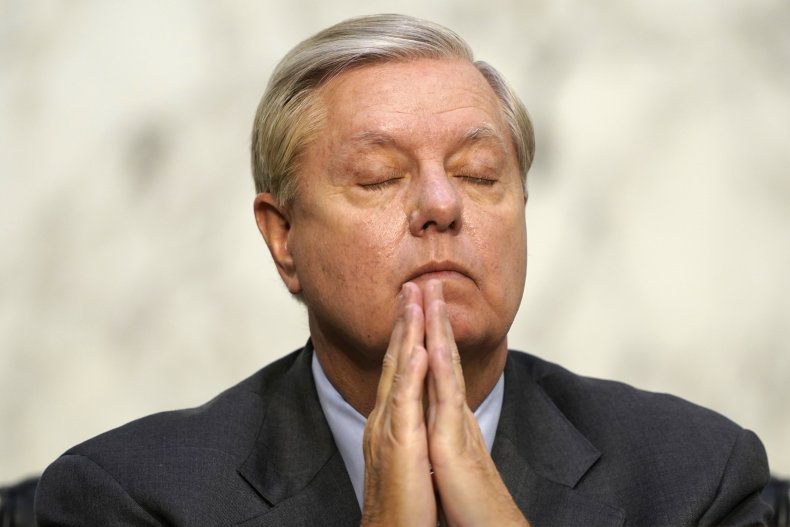 On Wednesday, Trump's personal attorney Rudy Giuliani and Trump's legal adviser Jenna Ellis urged Michigan's Republican lawmakers to overturn the state's certified election results in Trump's favor. The attempt shows the legal team's shift in strategy.
In the weeks following the election, Trump's legal team filed lawsuits alleging widespread fraud in key swing states won by President-elect Joe Biden. However, 39 out of 40 of those cases have been thrown out, dismissed or withdrawn, largely to lack of evidence. In some cases, judges have said that even if fraud had occurred, the legal remedy wouldn't necessarily involve throwing out the hundreds of thousands of votes to help Trump win.
So now, Trump and his legal team have turned their focus to blue states with Republican governors and legislatures with the aim of convincing them to stop their appointed electors from vote Biden into office when their states formally cast their electoral votes. But so far, no states have indicated any willingness to go along with this plan.
Later on in his interview with MacCallum, Graham said he disagreed with former Trump campaign senior adviser for data and digital operations Brad Parscale's assertion that Georgia Republican senatorial candidate Kelly Loeffler and Senator David Perdue should demand the legislature investigate voter fraud claims to ensure a legitimate election in the upcoming January 5 Senate runoff election.
"We need to get off our ass and change the law in Georgia," Graham said. "We need to change the law so that the Senate races are not stolen from us."
Georgia's runoff election will determine which major party controls the Senate and, thus, whether Biden will be able to pass his legislative goals with Democratic congressional support.
Some Republicans who believe Trump's claims of voter fraud have threatened to boycott the runoff election as a way to punish the state's Republican governor and secretary of state for not opposing the electoral votes securing Biden's victory in the state.
Newsweek contacted Graham's office for comment.