Lindsey Graham Blames Biden Team for ISIS Rise, Says Afghanistan Troop Pullout Puts U.S. in Danger
GOP Senator Lindsey Graham fired off about President Joe Biden's Afghanistan troop withdrawal plan on Friday, warning that pulling security forces out of the country would imperil the U.S.
Graham called the plan "dumber than dirt" and "devilishly dangerous" in a Sunday press release ahead of Biden's announcement that the U.S. would pull out 2,500 troops from Afghanistan by September 11, putting an end to the two-decade conflict.
On Friday, Graham reiterated his views on Twitter, saying that the Biden team consists of people who called for a total withdrawal from Afghanistan, which he claimed created the rise of the Islamic State militant group, or ISIS.
"'General Biden' has been wrong about every military decision in recent memory, and he is putting America in a very dangerous position," Graham wrote on Twitter. "'Joe Knows Best'" is getting a bit old and has never worked out. President Biden was VP Biden when he argued against the military recommendations regarding Iraq."
Biden announced on Wednesday the plan to withdraw armed forces from Afghanistan between May 1 and September 11, marking a symbolic end to the U.S. occupation on the 20th anniversary of 9/11. He added that the U.S. would continue providing security support and training for the Afghan military along with NATO, which plans to pull out its 10,000 troops.
That timeline breaks with the 14-month period established in a February 2020 agreement signed by President Donald Trump, NATO allies of the U.S. and the Taliban.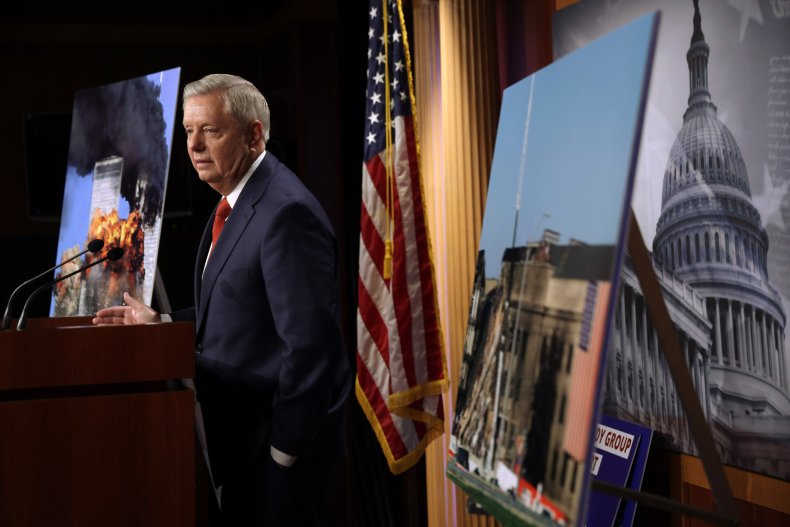 "We cannot continue the cycle of extending or expanding our military presence in Afghanistan, hoping to create the ideal conditions for our withdrawal, expecting a different result," Biden said in his Wednesday speech. "I am now the fourth American president to preside over an American troop presence in Afghanistan. Two Republicans. Two Democrats. I will not pass this responsibility to a fifth."
Graham cited an article from Politico that said nine military officials, some speaking on the condition of anonymity, advised that keeping a limited military presence in the region and maintaining a counterinsurgency effort would prevent Afghanistan from returning to its previous levels of violence.
But Biden and his national security team went against the military brass, including recommendations to maintain a counterterrorism presence, according to the report, a move Graham called "insane."
He also criticized the May 1 withdrawal deadline set by Trump, saying the threat on the ground is still an ever-present danger.
"The American military footprint in Afghanistan today is 2,500 troops. Those brave American men and women are an insurance policy against another 9/11. I think it is insane to withdraw at this time given the conditions that exist on the ground in Afghanistan. I know people are frustrated, but wars don't end because you're frustrated. Wars end when the threat is eliminated," Graham said in a statement.
"President Trump kept a residual force, but he did set a hard withdrawal date, which I thought was very bad, ill-conceived policy," he added
According to Pentagon data, the war in Afghanistan has resulted in the deaths of 2,200 U.S. troops, with 20,000 wounded. A Brown University study puts spending estimates for the conflict in the region and neighboring Pakistan at nearly $1 trillion.
Newsweek reached out to the White House and Graham for comment but did not hear back in time for publication.