Lindsey Graham Blames Governor Kemp for GOP 'Civil War Brewing in Georgia'
Senator Lindsey Graham (R-S.C.) urged Republican Georgia Governor Brian Kemp to take steps to end a Republican "civil war" by overturning President-elect Joe Biden's victory, shortly after he had certified the election for the Democrat a second time.
Graham made the remarks during a Monday night appearance on Fox News' Hannity. The senator warned that not calling a special legislative session focused on overturning the election outcome or ordering a signature-focused audit of results, which the governor has called for but cannot order himself, could have dire consequences for Kemp's political future because it will displease supporters of President Donald Trump.
"If you're not fighting for Trump now when he needs you the most as a Republican leader in Georgia, people are not going to fight for you when you ask them to get reelected," Graham said. "There's a civil war brewing in Georgia for no good reason. It's not unreasonable to ask the legislature to come back in and order an audit of the signatures in the presidential race to see if the system worked. What is unreasonable is to sit on your ass and do nothing when you've got a chance to save the country."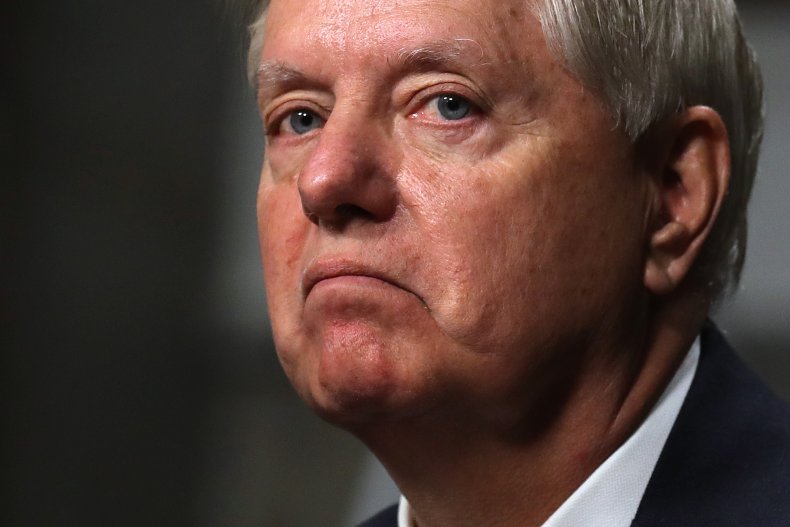 "The governor of Georgia could call a legislative session into being tomorrow to go ahead and audit the signatures so we'd have confidence in the presidential outcome," he added. "Maybe it worked, I don't know without an audit."
Graham insisted that Trump "got screwed over with the mail-in voting system in Georgia," maintaining that he has "no confidence" in the election outcome "if you don't audit the signatures." Kemp has rejected calls for a special session, which could be used to appoint Trump loyalists as Electoral College electors, though such a move may not be legal.
The governor certified the election in favor of Biden on Monday for a second time, following the completion of two recounts and a risk-limiting audit that ultimately saw the president-elect come out on top in three different countings of the ballots.
Georgia elections officials say that without a court order, they do not have the authority to order a new audit focused solely on signature verification. Even if such an audit were to take place, doing so would be essentially meaningless to the election outcome since any discrepancies found could not be tied to specific ballots.
Signature matching was already conducted on mail-in ballots in Georgia. Once signatures on envelopes containing ballots were checked against signatures on file, the ballots and envelopes were separated so the actual votes could be treated confidentially, as is the case for every ballot regardless of the method of voting.
If a new audit uncovered any discrepancies between envelope signatures and those on file, it would be impossible to match the envelopes to their corresponding confidential votes.
In a November 16 interview with The Washington Post, Georgia Secretary of State Brad Raffensperger, a Republican, said that Graham had called and pressured him to overturn the election results by finding a way to throw out all the votes in counties with higher numbers of signature discrepancies.
Neither Kemp, Raffensperger nor any of the other Republicans who control Georgia elections appear to have the power to order a signature matching audit without a court order.
"Both parties know the rules on this on the front end, so now coming up with a generalized grievance afterward that there may have been an issue because the person that I wanted to win didn't, is not a reason to have an investigation," Georgia election official Gabriel Sterling, also a Republican, said during a November 23 press conference.
On Monday, Graham also urged Kemp and other Republicans in Georgia to change election laws before the Senate runoffs take place on January 5, cautioning that "the quality of life in America" was at stake depending on which party wins the two seats.
Democratic victories in both Senate contests will result in the party controlling the upper chamber because Vice President-elect Kamala Harris will hold the deciding vote in a 50-50 split after Biden's inauguration.
Newsweek reached out to Kemp's office for comment.