Watch: Lindsey Graham Booed for Saying 'Kavanaugh Was Treated Like Crap,' Tells Crowd 'Boo Yourself'
Republican Senator Lindsey Graham received audible "boos" during a televised event Wednesday, after saying that Supreme Court nominee Brett Kavanaugh had been treated unfairly at last week's hearing.
"I think [Dr. Christine Blasey Ford] was treated respectfully," Graham said at an event hosted by The Atlantic in Washington, D.C, referring to Kavanaugh's first sexual assault accuser who testified before the Senate Judiciary Committee hours before Kavanaugh did. "I thought Kavanaugh was treated like crap."
Those in the audience immediately booed the senator, to which Graham responded: "Yea, well, boo yourself. I really believe Brett Kavanaugh is not a gang rapist, sexual predator or stumbling drunk. I've known him for 20 years."
Kavanaugh's testimony before the Senate Judiciary Committee was raw, emotional and partisan, leading some Democrats to say it displayed an inappropriate temperament for someone on track to join the country's highest court for life.
Just before the boos, Graham was discussing President Donald Trump's mocking of Ford's tertimony at a Tuesday night rally in Mississippi. Graham said he disagreed with the president's tone and way in which he had made fun of Ford.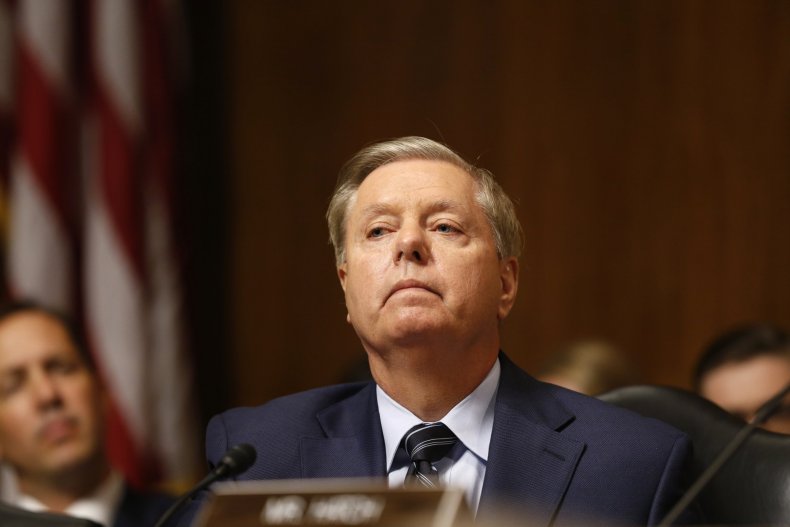 Trump mimicked Ford's responses, saying her repeated claims of not remembering certain details about the night in question compromised her credibility.
Along with several Democratic lawmakers, the Republican senators viewed as potential swing voters on Kavanaugh's confirmation condemned Trump's remarks. Senator Jeff Flake of Arizona, who is not seeking re-election, called Trump's mocking of Ford "kind of appalling." Last week during a vote to advance Kavanaugh's confirmation out of the Senate Judiciary Committee, Flake said he would only vote to move Kavanaugh's nomination to a final vote on the Senate floor if the GOP and Trump allowed the FBI to investigate the sexual assault allegations against Kavanaugh.
Senator Susan Collins of Maine joined Flake in expressing her displeasure at Trump's comments in Mississipi, telling reporters they "were just plain wrong."
"Trump went through a factual rendition I didn't particularly like, and I would tell him to knock it off. You're not helping," said Graham. "But it can be worse."
Although Graham said he didn't "like what the president said last night," he went on to say that "everything he said was factual."