Lindsey Graham Called Trump A 'Kook' Last Year But Slammed The Media For The Same Insult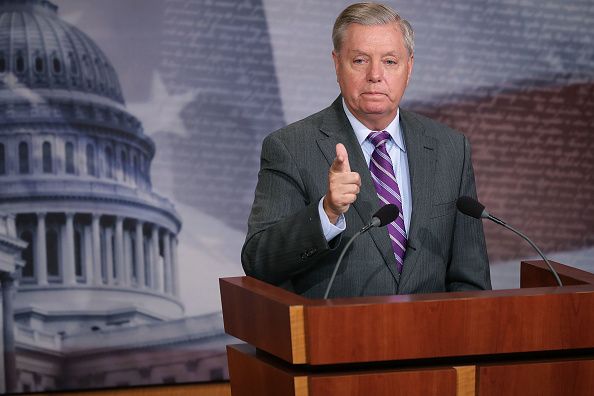 Republican Senator Lindsey Graham slammed the media on Thursday for trying to label President Donald Trump a "kook," but Graham had used the same word to insult Trump in 2016.
During an interview with CNN on Thursday, Graham raised questions about how the media behaves toward Trump.
"What concerns me about the American press is this endless, endless attempt to label the guy some kind of kook not fit to be president," Graham said Thursday.
Oops: the South Carolina Senator used the same insult against Trump during the 2016 election campaign. Graham called the then-candidate Trump a "kook" in person during an interview with Fox News. He said the other Republicans would get "slaughtered" in the presidential election if Trump became the nominee.
"I think he's a kook. I think he's crazy. I think he's unfit for office," said Graham.
Back in February 2016, the Senator backed former Republican presidential candidate Jeb Bush after abandoning his own quest to become Leader of the Free World. He slammed Trump for not being a real Republican and said he was not suitable for the role as president.
"I'm a Republican, and he's not. He's not a conservative Republican, he's an opportunist," Graham said on the program. "He's not fit to be president of the United States."
In a statement, Graham said he will agree with the president when he is right and will speak out when he Trump is wrong.
"The American people elected Donald Trump as our President. He is the President of ALL Americans. When [Graham] agrees with [Trump], which is much of the time, he will support him. When he doesn't, he will say so," the statement said.
Graham was one of Trump's harshest critics during his presidential campaign. He didn't even vote for Trump, saying he cast his ballot for independent candidate Evan McMullin instead.
The two have never seen eye to eye. In August, the two broke out into a Twitter feud over the President's response to the racially motivated protests in Charlottesville. Graham asked Trump to change his comments after he blamed white supremacists and counter-protesters for the violence that occurred.
Recently, Graham criticized Trump's re-tweeted videos of Muslims committing violent acts, calling the videos "inappropriate" and "very unhelpful" in the war on terrorism.