Lindsey Graham Calls Vladimir Putin a 'Thug,' Says 'Enough is Enough'
South Carolina Sen. Lindsey Graham called Russian President Vladimir Putin a "thug" after he formally recognized two Ukrainian separatist factions as independent nations.
Graham took to Twitter on February 21 to share his thoughts on the recent decision, which is expected to send shockwaves throughout the international community. In a statement, he also accused Putin of undermining democracy.
"When it comes to thugs like Putin disrupting world order and destroying democracies," wrote Graham, "enough is enough."
Putin's official recognition of Donetsk and Luhansk as independent states is expected to worsen the ongoing conflict between Russia and Ukraine. This prediction is due to the fact that their separations led to the 2015 Minsk Agreements that ended the Ukrainian war that same year. Newsweek previously reported that granting independence to Donetsk and Luhansk violates this agreement, something that Graham also emphasized in his Twitter thread.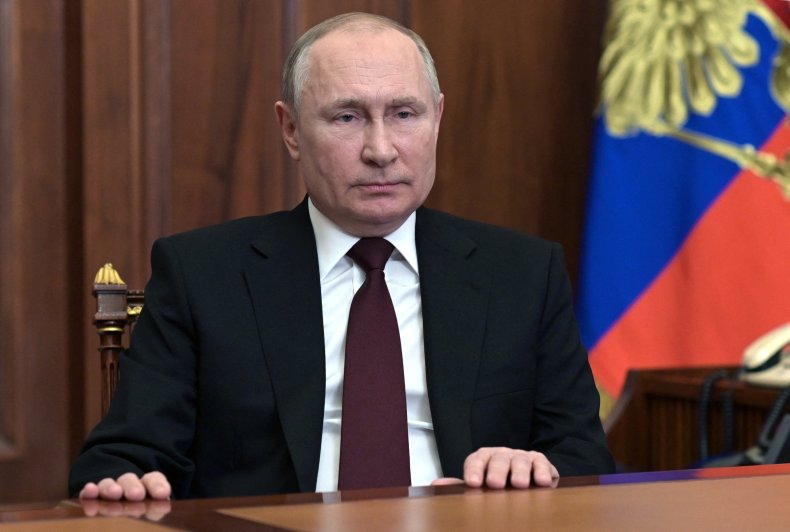 "Putin's decision to declare eastern Donetsk and Luhansk as independent regions within Ukraine is both a violation of the Minsk Agreements and a declaration of war against the people of Ukraine," the senator continued, although an official war declaration has yet to be made by either country. "His decision should immediately be met with forceful sanctions to destroy the ruble and crush the Russian oil and gas sector."
The sanctions that Graham is asking for might be coming soon. According to a new statement from White House Press Secretary Jen Psaki, the White House is expected to announce a new Executive Order that blocks "new investment, trade, and financing by U.S. persons" into Donetsk and Luhansk.
"To be clear: these measures are separate from and would be in addition to the swift and severe economic measures we have been preparing in coordination with Allies and partners should Russia further invade Ukraine," she wrote.
Meanwhile, NATO Secretary-General Jens Stoltenberg gave his own statement on the declaration of Donetsk and Luhansk as independent states. In the statement published on the organization's website, Stoltenberg urged allies to band together more than ever to encourage democracy.
"NATO supports the sovereignty and territorial integrity of Ukraine within its internationally recognised borders," wrote the Secretary-General. "Allies urge Russia, in the strongest possible terms, to choose the path of diplomacy, and to immediately reverse its massive military build-up in and around Ukraine, and withdraw its forces from Ukraine in accordance with its international obligations and commitments."
When posting the link to the statement on his Twitter account, Stoltenberg directly said that he condemned Putin's rulings.
"I condemn [Russia's] recognition of Donetsk/Luhansk in [Ukraine]," he said. "It erodes efforts to resolve the conflict & violates Minsk agreements. [NATO] supports Ukraine sovereignty & territorial integrity. We urge Moscow to stop fuelling conflict & choose diplomacy."
This is a developing story and will be updated when more information is available.
Update 2/21/2022 at 4:08 p.m. EST: This story has been updated to include remarks from Jens Stoltenberg.