Lindsey Graham Challenger Jaime Harrison Promises 'New South' in Close Senate Race
Jaime Harrison is confident that South Carolina is ready to end the Lindsey Graham era by electing a young, black Democrat to Congress.
"At the end of the day, I do believe we are starting to see the emergence of what I call the 'New South,'" the 44-year-old Senate candidate told Newsweek in a phone interview. "This New South is bold, it's inclusive and it's diverse."
In Harrison's mind, this includes "new visionary leadership" starkly different from previous tenants of the seat—one that was held by segregationist Strom Thurmond for more than four decades and hasn't gone Democrat since the 1950s. In fact, the state hasn't elected a Democrat in any statewide election in 14 years.
But Harrison is buoyed by recent success from Democrats in red states—Andy Beshear in Kentucky and Joe Cunningham in South Carolina—and he won early support from prominent party leaders, including Democratic presidential nominee Joe Biden. He's since racked up endorsements from other big names such as former Indiana mayor Pete Buttigieg, Fair Fight Action founder Stacey Abrams and Representative James Clyburn.
"Jaime is grounded solidly in the soil of South Carolina," Representative James Clyburn told Newsweek. "He has the kind of life experiences that allow him to really connect with ordinary people in an extraordinary way, and he is guided by those experiences. His service in the United States Senate will make all South Carolinians proud."
Harrison even has Graham supporters flocking to his cause. According to The State, two dozen former financiers of Graham have jumped ship to back Harrison. The Democrat outraised Graham by more than $1 million in the first three months of 2020, joining a swath of challengers in key Senate races who have hauled in more cash than Republican incumbents so far this year.
Another good sign for Harrison is that the South is a region that's becoming more diverse, with more African American and Latino voters. While white residents still make up about 64 percent of South Carolina's population, the number of registered nonwhite voters surpassed 1 million for the first time in the state's history earlier this year. Harrison said he's working to build a broader coalition of voters than candidates before him.
"I'm talking about their aspirations, their hopes, their dreams and their fears—and doing it in such a way where they see a path forward. It's something Graham has not been able to do," Harrison said.
There's some proof he may be right. The most recent polling shows him and Graham tied at 42 percent support among registered voters.
Still, he's going up against one of the more powerful lawmakers on Capitol Hill and one of President Donald Trump's closest allies. Graham, a three-term incumbent, comfortably won his last reelection effort by a 10-point margin. He has more cash on hand than Harrison, the backing of the Republican establishment and a "Complete and Total endorsement" from Trump. Plus, the president's name at the top of the ticket in November is likely to boost Graham in a state that voted for Trump by 14 points in 2016.
But Harrison says he's faced bigger challenges and is optimistic that his authentic connection with voters will carry him across the finish line.
"My life has been a testament that the American dream works," he said.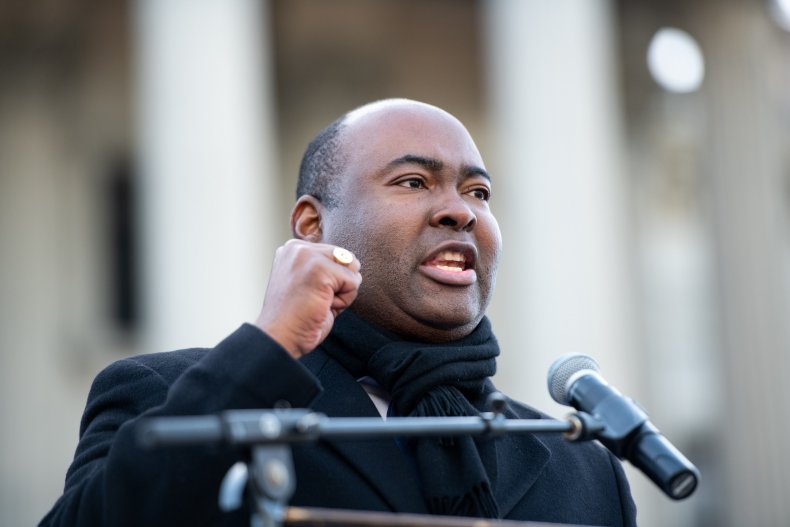 Harrison grew up in Orangeburg, a low-income, majority-African-American town. The son of a teen mom, Harrison was primarily raised by his working-class grandparents, neither of whom had more than an eighth-grade education. Despite not having much financially, Harrison said they were "just rich in terms of their character and their values."
He was the first in his family to go to college, earning degrees from Yale University and Georgetown Law School. It was while he was a student in Washington D.C. that he joined the office of Clyburn, who then was the first African American from the state to serve in Congress since the late 19th century. The two had met years prior after Harrison wrote a letter to Clyburn asking him to speak at his installation ceremony when he was elected president of his high school's National Honor Society.
"I left that program feeling certain I had met someone special," Clyburn told Newsweek.
Harrison eventually left Clyburn's office to join a lobbying firm whose client list included Bank of America, Walmart and the American Coalition for Clean Coal Electricity. His work there has proven to be a sore spot—it was one of the chief criticisms lobbed against him during his 2017 run to chair the Democratic National Committee.
That didn't stop him from becoming the first black chairman of the South Carolina Democratic Party in 2013, however. It was during that time, as he traveled around the state, that he said he heard people express concerns that their kids wouldn't be better off than they were.
"That to me was just fundamentally wrong," Harrison said. "How do we change that? There's nothing wrong with the people, it's about our leadership in the state."
Harrison's more progressive platform focuses on expanding health care options like Medicaid, lowering the cost of prescription drugs, reducing student loan debt and improving infrastructure, environmental justice and paid family leave. But if elected to Congress, Harrison assured he'd be willing to work with his conservative colleagues for the benefit of his constituents.
"We are trying to be above politics because we have issues here that are not political issues," he said. "They are issues that Democrats and Republicans, poor and rich, black and white are all struggling with and dealing with on a day to day basis. It's about doing what is right versus what's wrong."
Graham's team did not respond to Newsweek's request for comment.
Lindsey Graham Challenger Jaime Harrison Promises 'New South' in Close Senate Race | U.S.