Lindsey Graham Challenger Warns 'We're Coming for Your Seat' As New Forecasts Downgrade Republican's Chances of Winning
Sen. Lindsey Graham's challenger says he is coming for the incumbent senator's seat after two election forecasts predicted the South Carolina race could be closer than first expected.
Election analysis published by The Cook Political Report and Larry Sabato's Crystal Ball downrated Sen. Graham's seat from a "safe" Republican victory in November to a "likely" Republican win.
The analysts noted that the race was not "being ignored by either party" as it was becoming clear that Democratic candidate Jaime Harrison's path to victory was "not an impossible one," given his recent fundraising hauls.
But they both also recognized that there was still "a lot more to be done" by the challenger, with Sabato's Crystal Ball saying his route to victory would not be "an easy one."
Reacting to the new forecasts, Harrison tweeted: "This is HUGE: Today, the Cook Political Report *and* Crystal Ball updated our race from 'Solid Republican" to 'Likely Republican.' Watch out, Lindsey Graham, we're coming for your seat."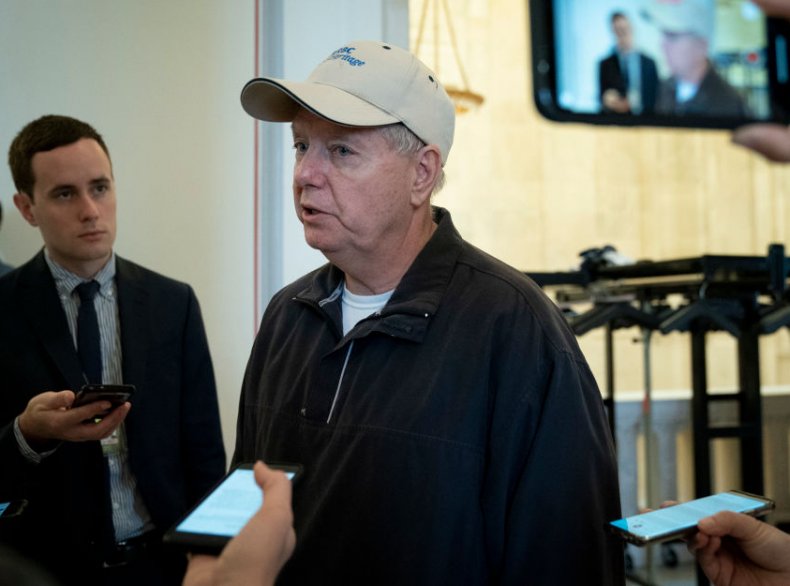 "These shifts reflect the groundswell of support Jaime Harrison is seeing every day in South Carolina," Guy King, a campaign spokesman, said on the forecast results. "This campaign is building the organization and resources it needs for a tough fight ahead."
The South Carolina Republican Party chair Drew McKissick poured cold water on the chance of Harrison beating Graham in November, telling The State newspaper that he didn't "put any faith" in the idea.
Writing about the landscape of the South Carolina senate race, the Cook Political Report said Sen. Graham had likely boosted his support among local conservatives by allying with President Donald Trump in Washington.
The analysts also suggested that the incumbent's regular appearances on Fox News could also have boosted his standing with conservative-leaning voters in a state where he has already "easily won re-election" several times over.
But the outlet warned that Harrison's campaign was "well-funded" and buoyed by "encouraging signs for Democrats," such as turnout for former Vice President Joe Biden in the state's Democratic primary.
Sabato's Crystal Ball also said the South Carolina 2020 race could be "the most competitive... since the Bush era" in light of Harrison's fundraising efforts.
But it also recognized that Sen. Graham still had more cash on hand than his Democratic rival, adding: "The state's partisanship should be enough to keep this seat in Republican hands."
"Our definition of a race that is 'Likely Republican' is simply a race that is 'not considered competitive at this point, but [has] the potential to become engaged,' the Cook Political Report also wrote.
"This race fits that criteria, though there is still needs to be a lot more to be done—and political winds that need to shift—for Harrison to have a real chance to flip it, and that may never happen."
Newsweek has contacted the Harrison and Graham campaigns for further comment. This story will be updated with any responses.
Over the last month, the Harrison campaign has experienced a boost from Federal Election Commission data showing it raised more than Sen. Graham's campaign in the first quarter of 2020.
CNN reported in mid-April that the Harrison campaign had raked in a little more than $7 million over the first three months of this year, while Graham took in $5.6 million.
Earlier this week, it was also revealed that a former Michelin North America executive and backer of Sen. Graham had switched his support to Harrison for the 2020 race.
While the Democratic challenger has performed well on fundraising, he still trails Sen. Graham by some way in the most recent state polls.
A survey published by Marist College in late February showed that the incumbent lawmaker had a 17-point lead over Harrison. A partisan poll published by the Democrat's campaign on March 23 also found Graham to be four points ahead.