Lindsey Graham Says Democrats Hired Christopher Steele 'Foreign Influence,' Defends Trump 'Dirt' Comments
South Carolina Republican Senator Lindsey Graham acknowledged foreign influence is a problem in U.S. elections, but defended President Donald Trump by accusing Democrats of also paying a foreign individual to obtain information on their political opponents.
Graham, who has vacillated between mild criticism and staunch defense of Trump, responded to the president's comments this week that he might not alert the FBI if a foreign government offered him damaging information about one of his 2020 political rivals. This sentiment appeared to confirm the fears of many Trump critics that the president is willing to collude with foreign governments to collect "dirt" on Democratic candidates as he was accused of doing in 2016.
Speaking to reporters Thursday, Graham said it was a "mistake" for Trump to have admitted he was open to accepting "dirt" provided by foreign governments, but hedged against actually rebuking the president, saying that all public officials should reject any foreign help and immediately report such information to the FBI.
The South Carolina senator then ridiculed the "outrage" of Democrats, who he says hired former British intelligence officer Christopher Steele to compile a dossier in order to secure a warrant to spy on Trump's campaign.
In actuality, conservatives tied to The Washington Free Beacon were behind the initial contracting of a group tied to Steele as part of opposition research against then-candidate Trump. The Beacon dropped the project once Trump won the Republican Party nomination for president.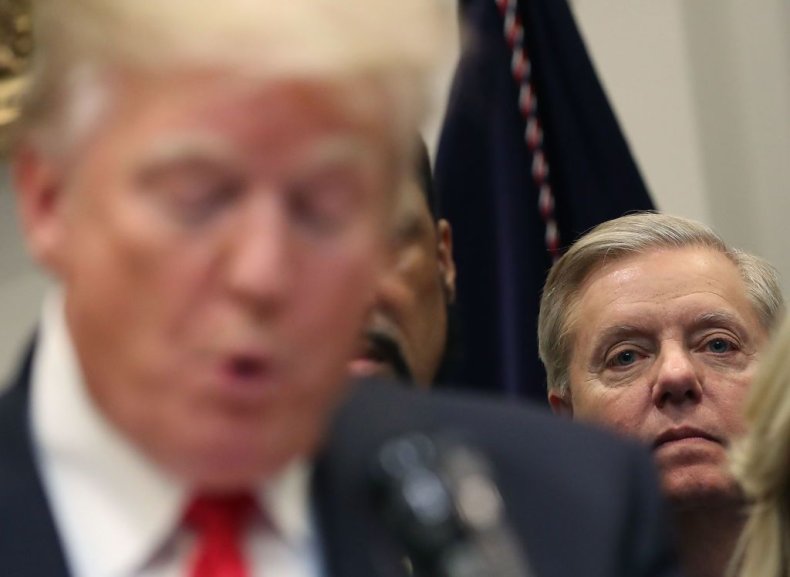 "First, I believe that it should be practice for all public officials who are contacted by a foreign government with an offer of assistance to their campaign — either directly or indirectly — to inform the FBI and reject the offer," Graham tweeted Thursday.
"But this has not been recent practice and we saw that come to a head during the 2016 presidential campaign. During that race, we had a major American political party hire a foreign national, Christopher Steele, to dig up dirt on an American presidential candidate," Graham continued via Twitter.
Graham was responding to Trump's interview with ABC News' George Stephanopoulos Wednesday in which the president said there "isn't anything wrong with listening" to a foreign government such as China or Russia if they have negative information about a 2020 Democratic rival.
"It's not an interference, they have information — I think I'd take it," Trump said Wednesday.
He continued, "If I thought there was something wrong, I'd go maybe to the FBI — if I thought there was something wrong. But when somebody comes up with oppo research, right, they come up with oppo research, 'Oh let's call the FBI.' The FBI doesn't have enough agents to take care of it. When you go and talk, honestly, to congressman, they all do it, they always have, and that's the way it is. It's called oppo research."
Graham on Thursday continued tweeting at length, criticizing Democrats for ties to the Steele dossier and Special Counsel Robert Mueller's investigation. But he blunted the edge of these remarks with a slight push back against Trump's comments about being open to accepting foreign "dirt." Graham noted U.S. elections "should be run by, for, and decided by the American people. Foreign influence in our electoral process is and has been a problem."
He added, "Finally, the outrage some of my Democratic colleagues are raising about President Trump's comments will hopefully be met with equal outrage that their own party hired a foreign national to do opposition research on President Trump's campaign. [A]nd that information, unverified, was apparently used by the FBI to obtain a warrant against an American citizen."
While Steele was indeed a foreign citizen when he compiled, a 2018 report from the then-Republican led House Permanent Select Committee on Intelligence appeared to clarify that hiring Steele or other non-citizens to do opposition research was within the bounds of existing law.
"Under current federal election law, foreigners are prohibited from making contributions or donations in connection with any campaign in the United States. However, it is not illegal to contract with a foreign person or foreign entity for services, including conducting opposition research on a U.S. campaign, so long as the service was paid for at the market rate," reads the report.