Lindsey Graham Claims It Would've 'Been Wrong' If Trump Didn't Seek Biden Probe: Ukraine Corruption Allegations 'Have Not Been Debunked'
South Carolina Congressman Lindsey Graham tweeted Monday that allegations against former Vice President Joe Biden and his son Hunter in regards to their business dealings in Ukraine "have not been debunked."
Graham also called the evidence presented against the Bidens during Monday's impeachment trial by former Florida Attorney General Pam Bondi in the defense of President Donald Trump "compelling" and "damning."
"It would have been wrong for President Trump to have NOT been worried about the Biden's business dealings in Ukraine after the information we heard this afternoon from the President's defense team." Graham tweeted.
"Compelling, damning presentations that the Bidens have not been investigated and the allegations against them have not been debunked," Graham continued. "They most definitely should not be swept under the rug."
"If one can find a scintilla of evidence about Biden corruption in Ukraine, the House case falls apart," Graham added. "Today we have heard a tsunami."
Newsweek reached out to Graham for further comment but did not receive a response in time for publication.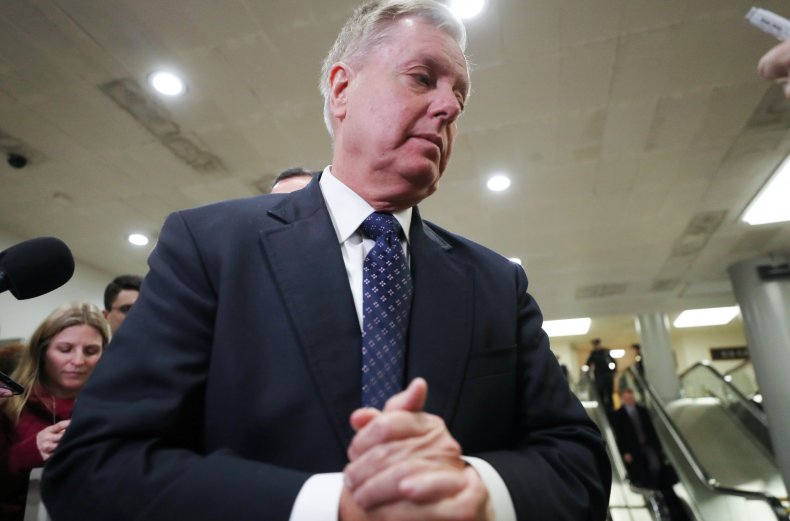 "When the House managers gave you their presentation," Bondi told the Senate Monday during impeachment proceedings, "When they submitted their brief, they repeatedly referenced Hunter Biden and Burisma. They spoke to you for over 21 hours and they referenced Biden or Burisma over 400 times."
"When they gave these presentations, they said there was nothing, nothing to see," Bondi continued. "It was a sham. This is fiction. In their House memorandum, House managers describe this as baseless. Why did they say that? Why did they invoke Biden or Burisma over 400 times?"
"The reason they needed to do that is because they're here saying that the president must be impeached and removed from office for raising a concern," Bondi said.
Bondi argued, among other things, that the Bidens' involvement in business dealings in the Ukraine was questioned by the Obama administration, former Ambassador to Ukraine Marie Yovanovitch and State Department official George Kent. Hunter Biden, Bondi noted, had also done business with former Secretary of State John Kerry's stepson, Chris Heinz.
It was not until Joe Biden announced his campaign for the U.S. presidency that Hunter Biden left his position on the board of Ukrainian natural gas company Burisma Holdings.
"All we're saying is that there was a basis to talk about this, to raise this issue, and that is enough," Bondi said.
Bondi's talk of political corruption led some on the internet to bring up Bondi's behavior while acting as Florida's Attorney General. She received a $25,000 donation from the Trump Organization for her reelection campaign; later, she chose not to pursue legal action against Trump University. Students at Trump University claimed they paid exorbitant fees to receive specialized training classes and seminars in business and real estate that never materialized.
Trump University ceased doing business in 2010. Trump settled out of court over the lawsuits concerning his namesake university, paying out approximately $25 million to former students.