GOP Senator Lindsey Graham on Wednesday condemned a group of Republicans who barged into a closed-door impeachment deposition to protest Democrats' handling of an impeachment inquiry into President Donald Trump.
Dozens of House Republicans, led by Reps. Steve Scalise—the House minority whip—and Matt Gaetz, dramatically halted the deposition of a Defense Department official who was testifying behind closed doors earlier today as part of the impeachment inquiry after attempting to access a secure room. Their demonstration called for greater transparency in the impeachment inquiry process.
Upon learning of the incident, Graham called his colleagues "nuts" for "making a run in the SCIF," according to the Associated Press. "That's not the way to do it," he added.
The group stormed a secure hearing room in the Capitol basement where the testimony of Laura Cooper, the deputy assistant secretary of Defense for Russia, Ukraine and Eurasia, was taking place. Only lawmakers from the House Intelligence, Oversight and Foreign Affairs Committee, the panels conducting the inquiry, and their staffers were permitted to attend the proceedings.
Republicans have condemned the secrecy surrounding the impeachment inquiry process and repeatedly called for greater access to witness depositions. The GOP lawmakers say their demonstration was due to their frustrations, while Democrats have dismissed the move as merely a political stunt.
After they entered, Democratic House Intelligence Committee Chairman Adam Schiff postponed Cooper's interview and left the room. It is unclear when her testimony will be rescheduled.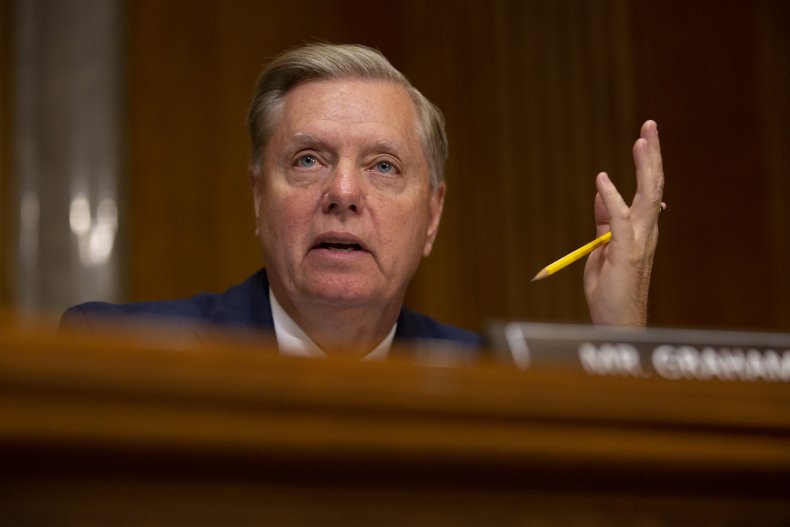 "The fact that Adam Schiff won't even let the press in, you can't even go in and see what's going on in that room," Scalise said outside the room. "Voting members of Congress are being denied access from being able to see what's happening behind these closed doors, where they're trying to impeach the president of the United States with a one-sided set of rules, they call the witnesses."
Meanwhile, Democratic congressman Mike Quigley, who was in the room when the Republicans attempted to gain access, said they "pushed their way in" and alleged they took photos. They "have no respect" for the inquiry, he added. Cellphones and other such electronic devices are prohibited from being used in the classified room.
Democratic congressman Gerry Connolly said some of the Republican lawmakers, including Reps. Louie Gohmert and Bradley Byrne, were loudly complaining about the illegitimate impeachment process.
Graham was not the only GOP leader to condemn his colleagues. Congressman Jim Jordan, the ranking members on Oversight, confirmed that some of the Republicans bought cell phones, which were later collected by other Republicans familiar with the ban and rules of the room. "They shouldn't do that, but they're not used to this," Jordan said. "It was a mistake, so no big deal. They understand now and it won't happen again."