South Carolina Senator and President Donald Trump loyalist Lindsey Graham is up for reelection in 2020 and it appears as though he could have a real fight on his hands.
Democrat Jaime Harrison has raised a record-breaking $1.3 million over the last three months for his fight against Graham for the Senate seat next year, a large sum of money considering he only announced his intent to run about a month ago. Harrison now has $1.5 million cash on hand, that's more than any other Democratic candidate running for the U.S. Senate in South Carolina has ever made.
The former chair of the South Carolina Democratic Party said in an email that his fundraising haul came from 60,000 contributions and that the average donation size was $26. Harrison has said he thinks he'll need about $10 million in total to beat Graham.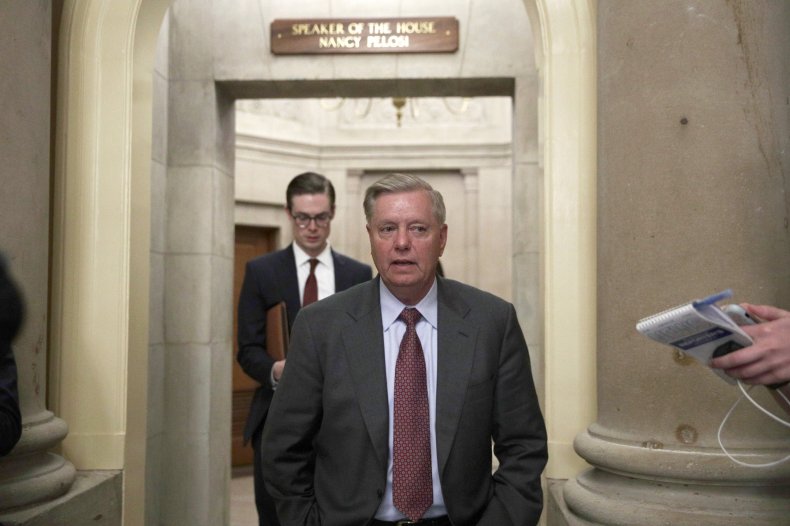 Graham, who has held his seat since 2003, currently had about $4.6 million in reserves at the end of the first quarter, and his campaign says they have not yet tallied Q2. Graham also holds a sizable lead over any Democratic challenger in early polling, with about 51 percent of the vote, according to a mid-June Post and Courier-Change Research poll. Still, Harrison says he has what it takes to go the distance.
"We're building a campaign unlike anything Lindsey Graham has faced before, built on an incredible outpouring of support from grassroots donors and volunteers," said Zack Carroll, Harrison's campaign manager in a statement. "This campaign is focused on empowering regular South Carolinians to hold Lindsey Graham accountable for his record of always putting his political future ahead of what's best for South Carolina."
South Carolina is a ruby red state, and Graham easily won his last reelection campaign by about 15 points. In the 2016 election, Trump beat Hillary there by 14 points. Still, Harrison says demographics are changing and that he was inspired by races in Alabama, Kansas and Texas. He believes South Carolina could also turn purple.
Democratic primaries are also helping Harrison as they draw popular Democratic candidates to the state and will bolster the turnout for Democrats on voting day, which in turn aids down ballot candidates. Harrison has backing from almost every Democratic presidential candidate, the Democratic Senatorial Campaign Committee, U.S. House Majority Whip Jim Clyburn and South Carolina's last Democratic governor, Jim Hodges. New Jersey Senator and 2020 candidate Cory Booker even mentioned Harrison's campaign during the primary debates last week.
Harrison is very likely to win in his primary against former Georgia state representative Gloria Bromell Tinubu, after which he'll take on Graham.