Lindsey Graham and Democratic Challenger in Statistical Tie for Senate Seat
Republican Sen. Lindsey Graham and the Democratic challenger for his South Carolina seat, Jaime Harrison, are statistically tied with three months to go until election day, a new poll has found.
The battleground state survey released by Morning Consult on Tuesday found that Graham led Harrison by 1 percentage point, putting his slim lead within the survey's margin of error.
Independent voters in the state backed Graham over Harrison by a margin of 4 percentage points, again putting the challenger within the poll's margin of error, meaning he could still overtake the incumbent among swing voters.
Morning Consult pollsters also found South Carolina Democrats were more enthusiastic about their candidate that their GOP counterparts.
Ninety percent of state Democrats said they would vote for Harrison, while 81 percent of Republicans said the same of Graham.
A further 9 percent of South Carolina Republicans said they didn't know who they would be voting for in November as a combined 10 percent said they would be voting for Harrison or a third party candidate.
President Donald Trump was also found to be more popular in the Palmetto State than Graham, with 49 percent of likely state voters telling pollsters they would vote for Trump while 44 percent opted for Biden.
The commander in chief was also supported by 92 percent of state GOP voters, putting his party popularity score 11 points ahead of Graham's, despite their close relations in Washington, D.C.
Morning Consult surveyed 741 likely voters in South Carolina for its latest battleground state poll. Its margin of error stands at 4 percentage points.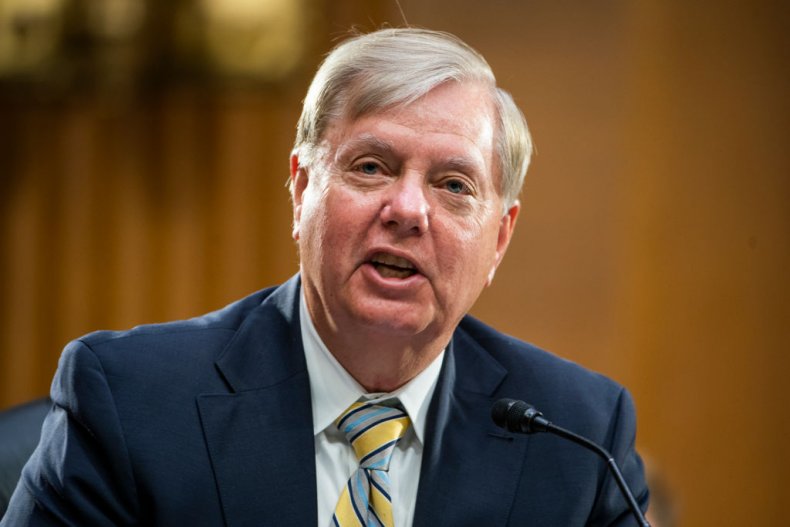 The new South Carolina poll results were released after two July polls found Graham leading Harrison by more convincing margins.
One ALG Research survey from July 26 found Graham ahead by 4 percentage points, while another poll from Gravis Marketing found the incumbent had a 7-point lead over his challenger.
Harrison has outperformed Graham in recent fundraising hauls, and almost doubled the donations bagged by the incumbent's re-election campaign in the second quarter of this year. The Democratic challenger raked in almost $14 million, while Graham raised around $8.4 million in the three months between April and June.
In the first three months of the year, Harrison outraised the GOP senator by a little under $2 million.
Cook Political Report analysts still favor Graham's chances of winning the Senate race, rating the contest as a "likely" victory for the incumbent.