Lindsey Graham Disagrees With Trump Backing Biden on Pulling Troops From Afghanistan
Not long after former President Donald Trump agreed with President Joe Biden's pledge of a complete withdrawal of American troops from Afghanistan, South Carolina Senator Lindsey Graham voiced his displeasure of Trump's remarks. He went on to bash the policies laid out by both Biden and Trump, referring to both men as "generals" during his comments.
Biden said he plans to pull the troops by September 11 this year, something Trump called a "wonderful and positive thing to do." Trump said he had a timetable of May 1 for complete withdrawal had he still been president, and encouraged Biden to pull troops out even sooner.
Graham, a Republican who has often sided with Trump, took an opposite stance Sunday evening. Graham sent a series of tweets saying why he opposed it.
"I could not disagree more with former President Trump regarding his support for President Biden's withdrawal of all forces from Afghanistan against sound military advice," Graham wrote. "With all due respect to former President Trump, there is nothing 'wonderful' or 'positive' about allowing safe havens and sanctuary for terrorists to reemerge in Afghanistan or see Afghanistan be drawn back into another civil war."
Graham said he's "well aware" that intelligence and military officials have argued with both Biden and Trump to keep a small force there as a "residual" counter-terrorism force.
"These forces act as an insurance policy to prevent the rise of ISIS and al-Qaeda, which threaten the American homeland, as well as to prevent another Afghan civil war," Graham stated.
The senator went on to say the Taliban can't be trusted "to police al-Qaeda and ISIS as envisioned by the Biden-Trump plan." He went on to call them "generals" while questioning their national security policy.
"We will see if 'General' Biden and 'General' Trump's withdrawal strategy turns out to be sound national security policy," Graham concluded.
Republicans had already been at odds with Trump's proposal to bring home the troops, and Senate Minority Leader Mitch McConnell said pulling troops now is a "grave mistake."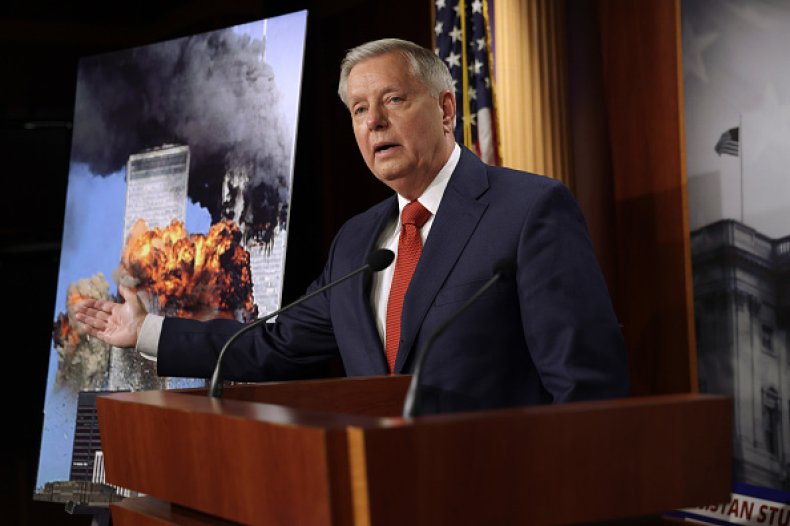 This September 11 will mark the 20-year anniversary since the attacks on the World Trade Center twin towers, the Pentagon and another plane that crashed into a Pennsylvania field that was bound for Washington, D.C. It's a date Biden mentioned when trying to bring the troops back from Afghanistan.
"September 11th represents a very sad event and period for our Country and should remain a day of reflection and remembrance honoring those great souls we lost," Biden said.
Even though that date is significant, Trump had an earlier timeline that would be about two weeks from now if he were still president.
"Getting out of Afghanistan is a wonderful and positive thing to do," Trump said. "I planned to withdraw on May 1st, and we should keep as close to that schedule as possible."