Lindsey Graham Dismisses Trump's CPAC Voter Fraud Claims: 'I Haven't Seen Evidence'
Senator Lindsey Graham, a South Carolina Republican, criticized Donald Trump for continuing to push false claims of widespread voter fraud from the 2020 election, following the former president's speech last Sunday at the Conservative Political Action Conference (CPAC).
During his remarks, Trump continued to promote baseless allegations that President Joe Biden and Democrats stole the election. These claims have been thoroughly litigated and have been rejected dozens of times in state and federal courts, including by judges appointed by Trump and other Republicans. No evidence has emerged or been revealed to support the conspiracy theory.
Speaking to a reporter on Tuesday, Graham said he thought Trump's overall speech was "good," but he took issue with the former president continuing to promote the baseless voter fraud claims.
"I think relitigating the 2020 election voter fraud claims is not a winning storyline," the Republican and close Trump ally said.
"I think it gets in the way of the future," Graham cautioned. "I haven't seen evidence of a bunch of dead people voting. I haven't seen evidence of people under 18 voting in Georgia, like was claimed. There are some problems—without any doubt in my mind—about mail-in voting being done on an industrialized scale, but you know, it's up to him."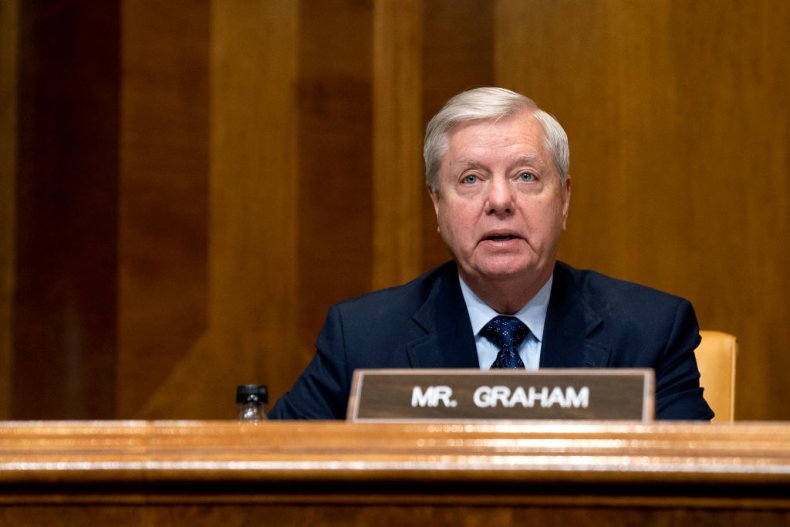 "My view is that the best way to win [in 2022] is to start talking about the differences between the parties, not relitigating 2020," the GOP lawmaker said.
Trump was not the only speaker at CPAC to promote the conspiracy theory that Biden and Democrats stole the election. In fact, recent polls show a significant number of Republicans believe the claims to be true. A survey published by Quinnipiac University in early February showed that 76 percent of Republican voters believed that there was "widespread voter fraud in the 2020 presidential election." Another recent poll conducted by R Street found that two-thirds (67 percent) of Republicans believe the 2020 election was invalid while less than a quarter (23 percent) view the outcome as valid.
Even former Attorney General William Barr, who was widely viewed as one of Trump's most loyal and effective Cabinet members, said in early December that there was "no evidence" of widespread fraud that would change the election's outcome. The Cybersecurity and Infrastructure Security Agency, which was led by a Trump appointee, issued a statement in mid-November describing the 2020 election as "the most secure in American history," and asserted that there was "no evidence that any voting system deleted or lost votes, changed votes, or was in any way compromised."
Recounts and audits in key battleground and swing states also demonstrated that the initial results were accurate.
Newsweek reached out to Trump's office for comment.