Lindsey Graham Jokes About Taking DNA Test: "I'll Probably Be Iranian. That'd Be, Like, Terrible"
Senator Lindsey Graham joked Tuesday that if he took a DNA test, it would probably show that he was "Iranian" and "that'd be, like, terrible."
Graham was speaking on Fox News morning show Fox & Friends in response to his Democratic colleague Elizabeth Warren releasing details of a DNA test. Warren took the test in response to repeated insults from President Donald Trump, referring to the senator from Massachusetts as "Pocahontas" and falsely claiming that she benefited from claiming to be Native American. The test showed that there was "strong evidence" of Native American ancestry dating back between six and 10 generations. However, she was criticized by the Cherokee Nation over the test.
Graham attempted to make light of the saga Tuesday, suggesting that he, too, should take a DNA test.
"I will take a DNA test," Graham said. "I've been told my grandmother may be part Cherokee Indian. It may be just talk. You will find out in a couple weeks.... I didn't really think much about it. But [Warren] is less than .1 of 1 percent. I think can beat her."
"Why don't you come back in a couple of weeks and we'll take a look, we'll find out who you really are," Fox & Friends co-host Steve Doocy said in response.
"I'll probably be Iranian. That'd be, like, terrible," Graham said.
Apparently sensing the problematic nature of Graham's comments, co-host Brian Kilmeade sought to clarify the remark.
"Great people just bad leaders," Kilmeade said.
"Bad leaders," Graham agreed. "I'm not in the Ayatollah branch yet."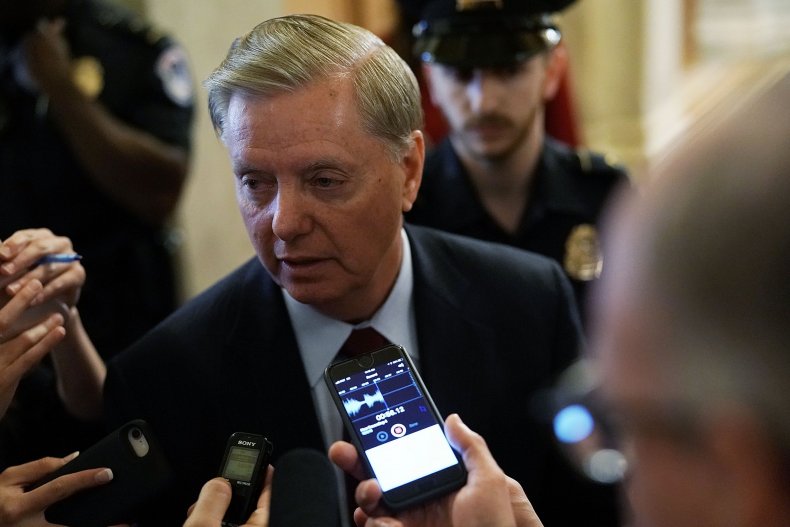 During the interview, Graham also had harsh words for the Crown Prince of Saudi Arabia, Mohammed Bin Salman, following reports that his government had journalist Jamal Khashoggi killed in the Saudi consulate in Istanbul.
The crown prince, Graham said, was "a wrecking ball. He had [Khashoggi] murdered...the MBS figure is toxic. He can never be a world leader...This guy's got to go. Saudi Arabia if you're listening, MBS has tainted your country."