Lindsey Graham Cuts Off Combat Veteran Trying to Talk to Him About Donald Trump's Conduct: 'Is That It?'
Senate Judiciary Committee Chairman Lindsey Graham listened to a veteran in the Senate office building, then dodged him when the man said President Donald Trump "is not acting in accordance to his oath," a video shared Friday on Twitter shows.
In the video posted by Common Defense, a grass-roots group of veterans opposed to Trump, Marine Corps veteran Jeff Key approached Graham in the hallway and the Republican senator stopped to listen.
"I live in Louisiana, lots of friends in South Carolina. I see how you've berated the press," Key said, appearing to catch Graham's attention. "And I honestly believe that if you believe in our democracy..."
"I do," Graham said.
"I came to D.C. because I'm a Marine. I went to Iraq, and I believe, as I believe you do, that President Trump is not acting in accordance to his oath," Key continued. "The oath that you took and that I did to defend the Constitution. You took an oath..."
"Yeah, I did," Graham said before brushing Key off. "I don't agree with you, and I gotta go."
The senator began moving past Key.
"I mean, you have, is that it?" Key said.
"Yep, that's it," Graham said and entered a room, closing the door.
The video had more than 10,000 retweets and 18,000 likes by midafternoon.
Common Defense spokesman Alexander McCoy, who recorded the video, told Newsweek that Graham's behavior was "extremely disrespectful" and a "slap."
"Honestly, it was shocking the way that he treated a veteran who was trying to engage with him in good faith and talk about our shared oath that we swore both as veterans and him as a member of the Senate," McCoy said. "Honestly, it felt like a slap in the face to the entire veteran community."
McCoy added that veterans have "seen a lot of disappointing things" from Graham and accused the senator of "setting aside his integrity and compromised himself" to protect Trump.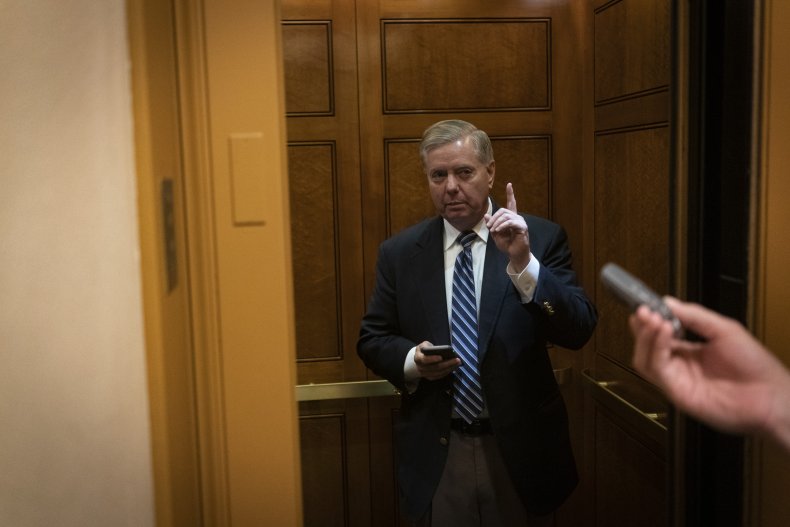 Common Defense brought about 60 members, including Key, to the U.S. capital in light of the impeachment hearings.
Graham's office could not be reached for comment by Newsweek on Friday.
In a letter to Secretary of State Mike Pompeo dated Thursday, Graham requested documents relating to former Vice President Joe Biden and his son Hunter's work in Ukraine, a move that supports Trump, who wanted the Bidens investigated by Ukraine.
McCoy said the group engaged with a number of other Senate and House members and will be releasing videos of those interactions in the coming days.
Army veteran David Weissman, who is a well-known former Trump supporter and not a Common Defense member, saw the video and told Newsweek that the "Republican Party has abandoned their constitutional principles for their blind loyalty to Trump."
"Veterans like myself and Jeff Key will hold them accountable for it," he said, "because we took an oath to defend the Constitution from enemies foreign and domestic."