Lindsey Graham Says He Doesn't 'Need to Hear a Lot of Witnesses' Before Senate Impeachment Vote
Lindsey Graham has revealed his "disdain" for the impeachment inquiry and said he doesn't need to hear "a lot of witnesses" to decide how he will vote if President Donald Trump is put on trial in the Senate.
The South Carolina senator told CBS News' Face the Nation on Sunday there was a "general desire" among his colleagues "not to turn this thing into a circus" and said he was ready to vote on the articles of impeachment.
He also advised President Trump to "get out of the way" when somebody is ready to acquit him, adding that he believed witness statements from Vice President Mike Pence and Secretary of State Mike Pompeo would harm the country.
At the Doha Forum on Saturday the Republican made similar comments on impeachment, telling CNN he was "not trying to pretend to be a fair juror."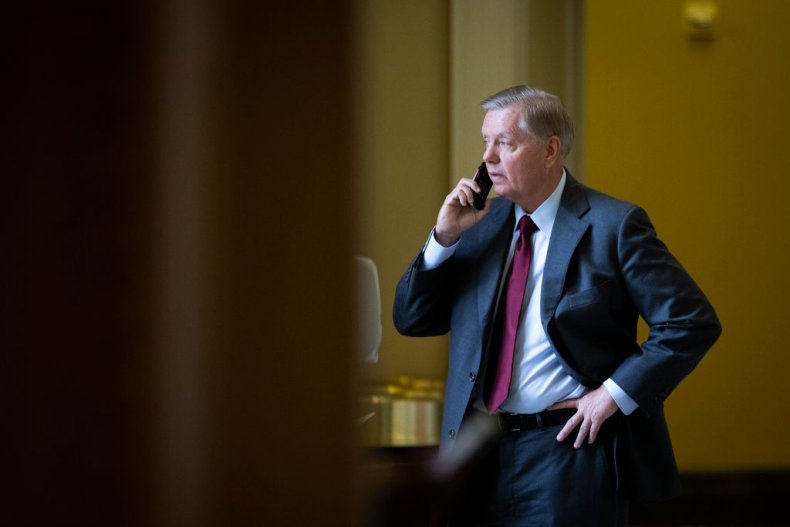 Speaking to Margaret Brennan on Face the Nation, Graham said: "I'm not trying to hide the fact that I have disdain for the accusations and the process, so I don't need any witnesses.
"The president can make a request to call witnesses. They can make a request to call Mike Pence and Pompeo and Joe Biden and Hunter Biden. I am ready to vote on the underlying articles. I don't really need to hear a lot of witnesses."
Pushed on why he was opposed to further witnesses being called if the impeachment process reaches the Senate, Graham said: "Well, I'd tell the president if somebody's ready to acquit you, I'd sort of get out of the way."
Newsweek has contacted the White House for a response to Graham.
Graham added that he believed calling on Pence and Pompeo to testify as witnesses would not be good for the country.
"There's a general desire by a lot of senators to not turn this thing into a circus," he said.
Later in the interview, the South Carolina Sen. said he had "nothing but disdain" for the impeachment process and called it a "crock."
The congressman also told The Washington Times in Doha, Qatar, that he believed impeachment would make the president's standing the Middle East "politically stronger," given the unlikeliness of Trump being convicted by the Senate.
"I think people in this region have a sense that if you take a figurative shot at somebody and you miss, they are stronger," Graham told the newspaper. "From a Middle East point of view, he took their best punch and he is still standing."
Graham's comments came as Democrats raised concerns about how the Senate would handle a trial of President Trump should articles of impeachment be sent to the chamber this week.
In a letter to Senate Majority Leader Mitch McConnell, published by CNN, Minority Leader Chuck Schumer said the trial must be one that "hears all of the evidence and adjudicates the case fairly" and suggested four witnesses be called before senators.
His letter to McConnell was sent after the House Judiciary Committee approved two articles of impeachment against President Trump on December 13, paving the way for a full House vote on the charges this week.
The two articles of impeachment charge the commander-in-chief with "abuse of power" and obstruction of Congress. They are expected to pass a full House vote, should one take place this week, and will then be sent to the Senate.
The Senate will then hold a trial of Trump and vote on whether to acquit or convict the president. The Republican-controlled chamber would need two-thirds of members to vote for conviction for the president to be removed from office.
In an attack on the impeachment process Sunday, Trump tweeted: "The Impeachment Hoax is just a continuation of the Witch Hunt which has been going on for 3 years. We will win! "