Lindsey Graham Doesn't Want Andrew Cuomo to Resign, Says He Must Be Allowed to Offer Defense
Sen. Lindsey Graham (R-S.C.) has urged critics of embattled New York Governor Andrew Cuomo to refrain from "jumping to the conclusion" that the governor should resign due to multiple sexual harassment allegations.
Graham offered his defense of the Democratic governor while speaking to Fox News during a short interview from the Capitol on Tuesday. Over the past week, three different women have come forward with claims of sexual harassment against Cuomo, who had already been under heavy criticism over his handling of nursing homes amid the COVID-19 pandemic.
"Rather than jumping to the conclusion that he should resign, I think what should happen is there should be a process where the people who make the accusations can be heard and he can defend himself," said Graham. "I think that's the best thing for the people of New York, and the best thing for the country."
Graham offered more detailed advice on how to handle the Cuomo allegations during a Monday night appearance on Fox News' Hannity, suggesting that Democrats should handle it "seriously" with tactics similar to those used by Republicans during the controversial Senate confirmation hearings of Supreme Court Justice Brett Kavanaugh.
"Here's what I would tell my Democratic colleagues to do: follow the Republican model," Graham told host Sean Hannity. "We had a Republican nominee for the Supreme Court be accused of something the day before we voted. The moment before we voted, we could have gone ahead saying this was too late, you sat on this, you didn't tell us, this is not fair. We stopped the entire damn process. We had days and weeks of hearings. We had another FBI investigation."
"We took it seriously," he added. "What should you do as Democrats regarding Cuomo? Do exactly what Republicans did."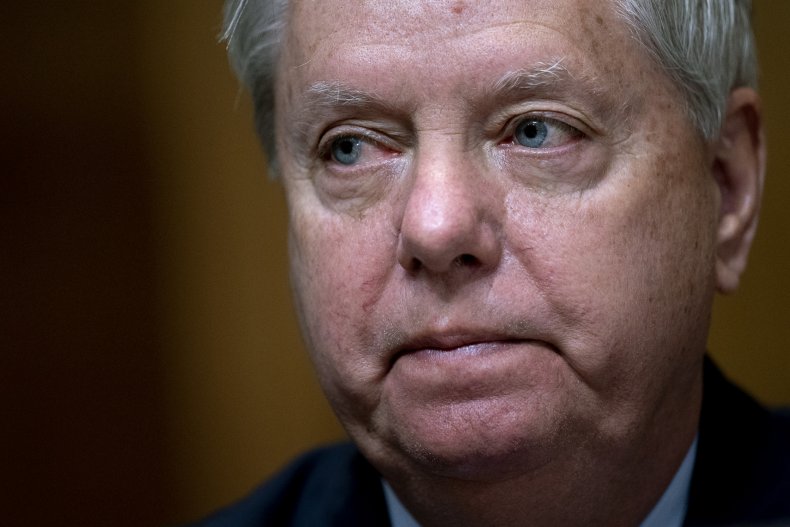 Party leaders in the Democratically-controlled New York state legislature announced Tuesday that they intend to pass legislation that would roll back Cuomo's expanded executive powers, which he had been granted last year due to the pandemic. An investigation into the sexual harassment allegations was announced one day earlier by New York Attorney General Letitia James, who was given the power to conduct the independent inquiry by Cuomo.
Bipartisan calls for Cuomo to resign have ramped up with the emergence of each new allegation against the governor. A New York Times report on Monday revealed the latest allegation, from a woman who said that Cuomo touched her without consent shortly after meeting him for the first time at a September 2019 wedding reception. Two former Cuomo aides had come forward with allegations of sexual harassment over the previous week.
Rep. Kathleen Rice (R-N.Y.) called for Cuomo's resignation shortly after the third allegation emerged, joining a chorus of Republicans and other Democrats who have condemned the governor in recent weeks. Cuomo has denied the harassment allegations, while insisting that criticism over his handling of nursing homes is politically motivated.
Newsweek reached out to the offices of Cuomo and Graham for comment.