Lindsey Graham Mocks Donald Trump's Suggestion DNC Was Hacked by '300-Pound Guy Sitting on a Bed Somewhere'
Discussing the attorney general's summary of the report from special counsel Robert Mueller on Monday, Senator Lindsey Graham joked about a 300-pound man hacking the Democratic National Committee. That was, of course, a slight play ont a claim once made by President Donald Trump.
"The Russians did, in fact, hack into the DNC," the South Carolina Republican said at a news conference. "The Podesta emails: It was the Russians. It wasn't some 300-pound guy sitting on a bed somewhere. And the conclusion was firm, without equivocation, that no one on the Trump campaign colluded with the Russians, when it came to the 2016 election."
Graham—who has often been an ally of the president—chairs the Senate Judiciary Committee.
During a 2016 debate against Democratic presidential nominee Hillary Clinton, Trump argued his campaign team did not know who stole the DNC emails. He joked that it might just be a guy on his bed doing it, although in Trump's version, the man weighed more than in Graham's replay.
"I don't think anyone knows that it was Russia that broke into the DNC," Trump said. "[Clinton is] saying Russia, Russia, Russia, I don't know. Maybe it was. It could be Russia. But it could also be China. Could be lots of other people. It could also be someone sitting on their bed that weighs 400 pounds, OK? You don't know who broke into DNC."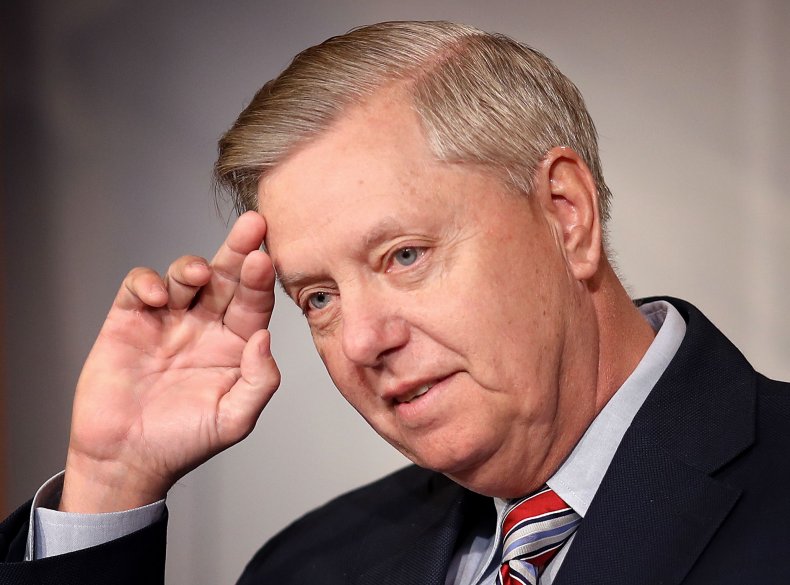 In Attorney General William Barr's summary of the Mueller report, he noted that the special counsel found evidence that Russia had meddled in the presidential election by means of a social media influence campaign and the stolen emails.
"The Special Counsel found that Russian government actors successfully hacked into computers and obtained emails from persons associated with the Clinton campaign and Democratic Party organizations, and publicly disseminated those materials through various intermediaries, including WikiLeaks," Barr wrote. "Based on these activities, the Special Counsel brought criminal charges against a number of Russian military officers for conspiring to hack into computers in the United States for the purposes of influencing the election. But as noted above, the Special Counsel did not find that the Trump campaign, or anyone associated with it, conspired or coordinated with the Russian government in these efforts, despite multiple offers from Russian-affiliated individuals to assist the Trump campaign."
In the news conference, Graham said he believed Trump had been placed under exceptional scrutiny and suggested those on the "other side" may soon face similar scrutiny.